Admission Essay Editing Service
Need to have a paper done?
Don't miss your deadline – order right now!
Get Help from a Safe Admission Essay Editing Service Here
As you prepare to submit your college application, you should understand that drafting an admission essay is both a science and an art. The art lies in how you tell your story, demonstrating why you are the ideal person for the college. The science element follows the guidelines for great scholarly writing, including using the right structure, effectively telling your story, and keeping your readers engaged. Remember, this is your chance to demonstrate your strengths and make a good impression on the admissions committee. Don't panic if you do not fully understand the writing process or need assistance with editing your work. The hints and suggestions in this guide should help you create a stellar paper free of typos and grammar mistakes. We also highlight useful tips on where to get admission essay editing assistance.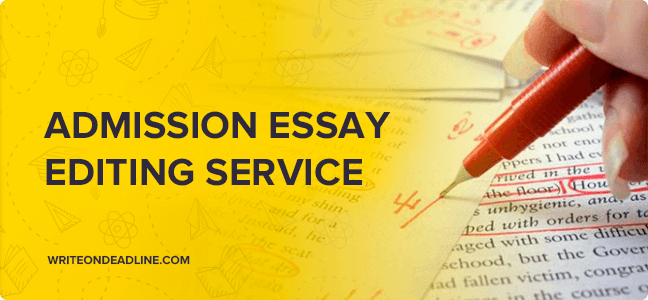 Why Write an Application Essay? Who Is the Audience?
The college admission paper is submitted as part of the requirements for candidates who wish to be considered for slots in top institutions. The application form includes a lot of information regarding the applicants, including test scores, grades, and lists of extracurricular activities. However, not much personal information is included. The essay allows the university of college staff to find out things about you that define your personality and whether you are likely to thrive in the academic setting.
Consider the essay as a chance to demonstrate your writing ability, an important requirement if you are to succeed in college. This is one reason you cannot afford to submit a paper-strewn with grammar and formatting mistakes. The officials will be looking for a mastery of the basic elements of academic writing, including organization, grammar, spelling, and syntax. When you engage professional admission essay editing services like ours, you boost your college prospects by submitting a document that reflects a maturity in thinking and overall readiness for college.
When writing and editing your essay, you should consider the audience for whom the project is intended. You need to understand that your project will be read by officers who receive thousands of applications each year. Since they have many texts to read, they look out for standout and concise writing. Working with our reliable admission essay editors ensures that you submit content that will capture the officers' interest and set you apart from the tons of other applicants.
Why Hire a Professional Admission Essay Editor?
It is shocking how often college applicants present their work to admissions committees that are nothing other than glorified drafts. Submitting an error-strewn paper sends the wrong message that you do not care enough or lack the necessary competence. Please understand that crafting effective essays is a time-intensive procedure that demands a great deal of essay proofreading and editing. Hiring expert admission essay editors from our company ensure that your work is completed with persuasion, power, and precision. You will not need to spend your valuable time going through multiple revisions. The professional will also have a better understanding of identifying inconsistencies and is more likely to deliver spectacular work.
It is also a good idea to hire a professional editor to check your essay if you have problems expressing yourself in fluent English. Maybe you are an international student, or you are yet to grasp the intricate components of grammar and syntax fully. Whatever the case, you need someone who will carefully go through your draft, ensuring that your ideas are clearly and concisely articulated and that your work is free of typos and spelling mistakes. This is just one of the reasons why you need to engage our dependable college application essay editing services.
Where Can Applicants Find Dependable Editors?
If you have already created a draft of your application paper and would like an expert college application essay editor to help with the finetuning, make sure that the individual you select is competent. Many people will promise quality work online but lack the necessary competence to deliver. Background checks are necessary, particularly when working with freelancers, you can easily find on social networking sites. It would help if you also were careful when engaging independent editors because the absence of a revision mechanism can be very frustrating.
Most college applicants have come to realize that an easier and safer way to get editing assistance is by engaging experts who have already been vetted and hired by top paper services. Such companies offer safe and dependable platforms for interacting with specialists. The presence of guarantees and policies also enhances the chances of success. Furthermore, you can always order a custom paper and allow someone else to work on the entire project.
Why Is Ours the Best Admission Essay Editing Service?
We know that there are many other companies that you could turn to for help with editing your admission paper. We also understand that some of these websites are not legit. Since you only have one chance to impress with the college admission paper, we suggest making sure that the professionals you engage are the best. This is why you should hire us to check your work.
Our service has hired some of the most talented specialists to help edit a wide range of academic and scholarly papers. They understand the nuances of formal writing and know what to look for when it comes to admission essays.
Our services are also affordable and guarantee incredible quality. We have adopted a bonus system that allows customers to pay for products using points obtained by placing orders partially.
Other benefits of engaging our cheap service to check your work include:
Outstanding quality with every order;
Talented editors working around the clock;
Direct interaction with specialists;
Friendly customer support;
Money-back guarantee.
Don't Panic! Get Affordable Editing Assistance Here
You only have one chance to make a first impression with your college application paper. Allow our specialists to finetune the draft and improve your admission prospects. Trust us with your essay.