Business Editing Service
Need to have a paper done?
Don't miss your deadline – order right now!
Get Reliable Business Editing Service from Experts Here
Written communication is an indispensable component of business management. It would help if you ensured that information reaches the intended audience in an accurate and concise format. Unfortunately, most managers are more concerned with what to say and how to say it than with editing and proofreading. The two steps are essential for businesses since even the most minute blemish can detract from an entire piece. Costly mistakes can damage the reputation of your brand and convey carelessness. Of course, you can always edit your own work, although it is highly likely that you may miss some punctuation, spelling, and grammar errors. The safer and more assured option would be to get help from dependable business editing services like ours.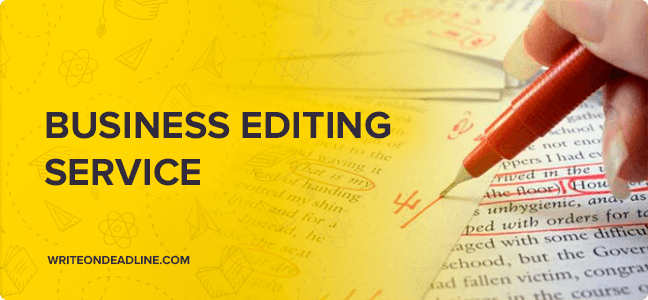 Why Procure Business Editing Services?
Effective written communication is a critical requirement for the current competitive business market. A well-drafted, concisely organized, and properly edited document demonstrates professionalism, making a strong impression on important customers, potential investors, and respected colleagues. If you produce a paper riddled with inconsistencies and ambiguities, the chances are that your company could suffer public ridicule with costly financial implications. While you may be tempted to edit your documents on your own, you may not have the skills or even the time to complete the necessary tasks. Working with business editing services ensures that your work is well-drafted and is free of typos and grammar mistakes. As a result, your company publications will be concise, clear, and consistent.
Traditionally, companies have overlooked the need to hire a business editor, instead choosing to have all changes to their text done in-house by every document's writers. While the practice of self-editing can save you some money, it may not deliver the best results in the organizational context. Deadline-bound documents may not be completed according to the step-by-step guidelines for revising. Time is a scarce resource, and the in-house writers may not afford to waste company resources going through mistakes they commonly make when drafting papers. In any case, when it comes to reviewing and checking texts before they are published, the writer is often too personally invested with the text to offer an objective revision position.
Another bad practice employed by certain businesses is to assign editorial and revision responsibilities to interns and temp employees. While the senior management understands the importance of revising, it does not recognize the value of hiring a professional editor. Such an approach can lead to missing several errors, including:
Misplaced and dangling modifiers;
Sentence fragments;
Sentence sprawl;
Unclear pronoun references.
Even worse, inexperienced editors may actually introduce mistakes to the document by changing the text's critical elements. It is, therefore, a good idea to get expert help from our company.
Where Can Companies Find a Dependable Business Editor?
Different company documents require varying amounts of thought and planning. As such, every text needs a different technique. Our professional editor has the necessary knowledge and experience to detect even the most minute of mistakes, adjusting your text on various levels. The question then is, where can one find a reliable business editor?
While working with an expert editor enhances your chances of getting quality work, not everyone who places an advertisement online is legit. You will have the option of picking between freelancers and experts attached to reliable services. You may notice the independent experts tend to offer relatively cheaper assistance. However, the lack of a supervision model often means that you need to read through portfolios to make sure that the individual has the necessary skills and experience. The likelihood of disappointment is also quite high. On the other hand, a top service will have scrutinized each specialist, making sure that you don't waste your valuable time on background checks. There are also quality guarantees and policies that you can benefit from.
Why Prefer Our Professional Business Editing Service?
If your organization produces many different texts annually, revising should be a high priority. Working with our dependable professionals ensures that errors do not slip past your in-house revision team. By working with our agency as your outsourcing partner, you will be streamlining your revision and proofreading processes and saving your employees the stress and time, as well as your organization's prized resources.
Other benefits of working with our service include:
Increased consistency;
Enhanced security and safety;
Guaranteed on-time delivery;
Money-back guarantee.
It Is Easy! Get Dependable Assistance Here
You don't need to gamble with your important company papers. Allow our experts to read through and perfect your texts carefully. Order from our trustworthy service here.