How to Write a Statistics Essay Step by Step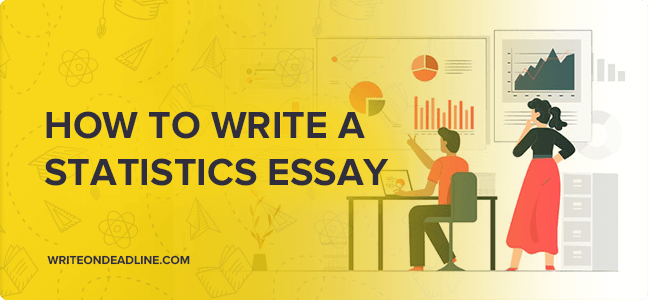 Most students usually believe that statistics is an extremely difficult subject since it involves a lot of math. Some students completely eschew this course since they believe that they do not have what it takes to excel.
The statistics discipline majorly involves gathering data and performing various calculations to derive meaning from the data. Thus, a student needs to be good at mathematics to be successful in this course.
Sometimes learners also experience learning difficulties such as poor writing skills, lack of time for research due to various responsibilities, sudden illness, and many others. For this reason, they might resort to hiring online companies to assist them in accomplishing such tasks.
However, there are thousands of writing agencies that promise students top-grades only to deliver half-written compositions. It leaves students stranded. For this reason, whenever you are looking for someone to help you compose an excellent statistics paper, you need to extensively evaluate the credibility of a firm you intend to hire. You can seek referrals from colleagues or go through customer review sections of various writing websites. It will help you get a general idea of what clients think about a given company.
What Is a Statistics Essay? Get a Clear Understanding
Most students do not know the correct statistics essay definition. A statistics essay is an academic paper typically written by students undertaking law, English, management, and economics. People usually deal with statistics every day in one form or another. There are two major branches of statistics, namely inferential and descriptive statistics.
Inferential statistics aims at providing a generalized result based on discrete data. One can conduct a study on a large sample and then offer the audience a general but succinct image. For instance, you can study the quality of healthcare within a given medical institution. However, rather than interviewing the entire institution, you can conclude using the most prevalent answers.
On the other hand, descriptive statistics feature such as the average, standard deviation, confidence interval, median, and mode, among others. These phenomena can either be referred to as measures of central tendency or measures of dispersion.
Planning on How to Write a Good Statistics Essay
You need to be well-versed in the major academic writing styles, or the format preferred by your faculty. An improper citation will be treated as plagiarism. Furthermore, ensure that you fully understand the arguments you intend to discuss. Offering scanty explanations will not earn your attractive marks. You need to go into great detail in order to make the reader understand your points.
Before you begin drafting your statistics essay, you must first select a topic. Make sure that your chosen topic is relevant to statistics. In case of any impediments in selecting a topic, consult your supervisor, or undertake independent research from within your local library and the Internet. Read books, go through magazines and journals, analyze past statistical essays, visit websites, etc.
Note down all the relevant information you come across and record the sources for use in your references section. In case you need any extra information, we can offer numerous statistics essay guidelines to help you understand how to write effectively.
Helpful Tips for Writing a Statistics Essay
Our company provides free examples of statistical papers of which you can use as a guide while writing. What's more, we have hired professional writers who can help you boost your academic performance through top-notch statistics essay tips.
Understanding the Statistics Essay Outline
If you want to experience a seamless writing process, you should formulate an outline for your paper. An outline is a summary of the main points/ideas to be discussed in the essay. All related information should comprise a given section of your paper. What's more, ensure that the entire outline has points that are in tandem with your topic. An outline with unrelated points is very likely to confuse the writer and, subsequently, the readers.
Which Is the Right Statistics Essay Structure?
Depending on your professor, you might be instructed to use a given statistics essay format. It is one reason why reading the instructions to the assignment is imperative. Some students generally ignore instructions and end up formatting their papers the wrong way. It usually attracts punitive actions such as lowered scores. Therefore, consider the following steps.
Start with the introduction
Offer a literature review
State your methodology
Write the results
Proceed to make your analysis and discussions
End your paper with a conclusion paragraph
How to Start a Statistics Essay Easily
Read through all the requirements of the composition before commencing the writing process. Via these instructions, you will know the required volume to write, the formatting method, and the grading rubric. At this point, you are in a better position, not to commit any errors.
Think of an opening that will be eye-catching to maintain the grader's interest in reading your paper. Remember, professors have many papers to evaluate.
How Can You Write a Statistics Essay Introduction?
Your introduction needs to state the name of your topic, followed by the thesis statement. Your thesis informs the audience about your general intention of the whole statistical essay. It is a summary of your work in one sentence or two.
Within the introduction, you can also give some background information to your study and state your hypothesis. At times, you can even write your research questions.
A Guide on Drafting a Statistics Essay Body
Within the body section, some subsections should be written properly:
Reviews of literature. In this segment, support your topic idea with examples, statistics, and facts from other scholars.
Lists down all the procedures and tools used during your research.
The results. Comprise the raw data obtained during the study.
Analysis section. It is where you perform the relevant statistical calculations using your data and give inferences.
State any assumptions made as well as your sources of errors.
Advice on How to End a Statistics Essay
When ending your essay, you need to summarize all the information you wrote in the previous sections. It is not appropriate to add extra information to this chapter. Many students are generally challenged when it comes to crafting a suitable conclusion. If you are among them, you need to seek help from our well-trained experts.
How to Precisely Write a Statistics Essay Conclusion
In conclusion, restate the thesis differently and explain the relevance of your composition to your study area. Demonstrate how it has solved a given problem. You can also suggest ways in which your research can be enhanced in addition to pointing out any research gaps. In the closing sentence, you can either give a call to action or a closing remark.
Stuck with Your Statistics Essay? Send a Request for Help
Our statistics essay writing service operates round-the-clock. Therefore, any time you are experiencing writing difficulties, do not hesitate to contact us. Our astute essay writers are highly qualified and have assisted thousands of students in achieving their academic potential. They will assist you in composing your paper. Order now!
Subscribe to our email newsletter with promotions and discounts.
×
Thank you!
Your email is successfully submited. Check your inbox for future updates.