Buy Personal Statement
Need to have a paper done?
Don't miss your deadline – order right now!
Buy Personal Statement Online For Cheap
A personal statement is very much like a curriculum vitae (CV). The only difference is that you are applying for a job in a CV, but in an application essay, you are applying to get into a learning institution of your choice. It could be graduate school or college that you are applying for. Much like an admissions essay, a personal statement essay is all about you: your strengths, your skills, your experience.
You want to write a statement that will make the reader say, "Yes, you are exactly the kind of quality student we want in our institution." It is also important to note that writing these papers is not something you are taught in any class. This is amongst the reasons students decide to use our services. For such papers that hold the power to determine the course of your life, many prefer to consult experts. We have had the opportunity to offer "buy personal statement online" services to thousands of students in the past, and we continue to do so successfully. Our writers have enough experience with such papers to provide quality write-ups that will leave the reader in awe.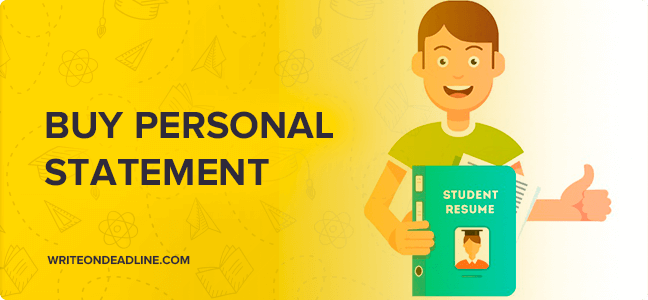 Why Should I Buy Personal Statement Online?
Most students wonder how a stranger from a buy personal statement online service will write impressive things about them, yet they have never met. What most people do not know is that this document is not an autobiography. The admission board wants to know what value you can add to the institution and not just what the institution can do for you. Many students end up writing about, say, hardships they have experienced in the past, how their current life is not good, and it is only a chance in that college that will help them. Our writers, however, will tell you that instead of writing that, you ought to mention how those hardships have helped develop your character.
Are you a stronger person? Do you face challenges head-on? When it comes to using our personal statement writing services, this is what the writes offer. We know what the board wants to read. Having been handling such papers over the past five years, we have mastered the art of presenting our customers' skills attractively and intriguingly: always ensuring that the essays we write for them will give them a fairly good admission chance.
Other than that, the reason you should opt to purchase a paper is to get one with no mistakes and is perfectly written. Knowing that their lives depend on these papers, many students are always in panic mode when working on their essays. You find that they end up presenting essays that are full of spelling mistakes and grammatical errors. Some think that using complex words will wow the board, but all it gives them a hard time figuring out what the words mean. Through their personal statement write-ups, you will find that their writing lacks flow, originality, and clarity.
Purchasing a personal statement should not be seen as an act of weakness but a decision made out of sheer intelligence. Our experts can write a quality paper on your behalf.
Buy a Personal Statement and Enjoy Uncountable Benefits
Not everyone you consult will offer you the quality paper you deserve. Over the years we have been in existence, our customers enjoy benefits they would likely not get anywhere else.
Our company has been able to equip itself with top-rated personal statement writers who only give quality papers. We carry out a strict recruitment method that only ensures we employ people with the right academic requirements. In addition to this, our experts are diversified in their areas of study. For whatever topic you need your paper to focus on, we have the right staff to handle it.
Get a discounted offer on your first order. Our loyal customers also get to enjoy regular bonuses on orders they make. These bonuses can be redeemed when one feels financially challenged.
We offer a money-back guarantee to all those who receive a personal statement not written according to their instructions.
Once you order your paper from us, we take up the responsibility of correction, revisions, and editing that your work may need at any one point.
You get a paper that is written just how you want it. Our writers follow all the instructions given to them.
Whether you give us a 4-hour deadline or 24 hours, we will get it done before the deadline. Our writers are speedy to execute their work.
We make it our business to protect the interests of our clients. This said, we could not disclose any of your data to a third party.
Buying Personal Statement from Us
Start by telling us what college or institution you are applying to. Then state what you require your text to consist of and any other instructions you may want your writer to be aware of.
Once you click on the cost calculator, the page displays the amount and the payment options. As soon as we receive the payment, our writer begins working on your personal statement with immediate effect. After it is complete, you get a message asking you to download it. Review the work, and if you need any corrections, we do it free of charge.
Need to Buy a Paper? Place an Order Here
Are you having trouble writing an admission document that captures your strengths and skills? We will wow the board for you. Buy a professional personal essay from us at a pocket-friendly rate. Place your order and submit the perfectly written paper that will bring you success. Become an active user of our service.