Essay Help
Need to have a paper done?
Don't miss your deadline – order right now!
Specialized, Timely, and Affordable Essay Help
When it comes to writing a brilliant essay, there are three essential things to consider.
First, comprehensive research should go into your assignment preparations. It is crucial to fully understand your subject matter before you begin penning your thoughts down.
Secondly, writing skills come in handy when you are putting your thoughts, ideas, and arguments on paper. Good command of English is essential at this stage so that you can communicate your points.
Lastly, it would help if you proofread your essay. Through this, you can spot the grammatical errors you might have made and correct them accordingly. Also, you can check if your ideas are strung together logically.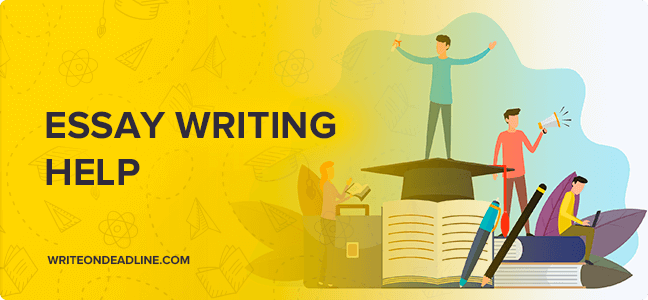 Each one of the development stages of writing an essay comes with its challenges. When it comes to research, one should invest significant time into getting familiar with the topic they are supposed to cover. This is especially difficult for students who juggle both work and school. Also, schoolwork could sometimes get a bit too much for students. Consequently, they lack adequate time to put into the researching stage.
The second stage requires students to put together their research in a way that answers the assignment question. Non-native English-speaking students usually have a problem expressing themselves on paper. Those with this issue typically seek assistance from online academic writers.
The final stage requires much more than a keen eye to do correctly. Experience is key. Exposure to many reading materials and learning correct grammar help students tell when their write-up is properly done. This means figuring out when your paper fully answers the given question. Plus, your arguments need to be coherent and follow a logical progression.
Professional Essay Writing Help
Finding essay writing help online involves the diligent investigation of the particular website you want to use. It is critical first to establish whether they provide the solutions you need. College students find this process particularly tasking. Mostly, they feel that their assignment is too complicated. They fear that online sourcing help could mean losing their money by getting an incompetent writer. We have been giving academic help to students for years. During that time, we have brought a group of expert essay writers together. Collectively, they have qualifications in over 40 subjects that cover more than a hundred academic disciplines. With us, your college paper is in competent hands.
When it comes to the timely delivery of tasks, we are one of the industry leaders. You can access essay help from any of our writers and have confidence that it will be submitted to you on time. If you have a standard essay to submit in school, and time is not on your side, we can have it delivered to you in about 3-5 hours. This remarkable turnaround time is also applicable to dissertations; 3-5 days is all our writers need to produce a high-quality submission. Are you wondering whether our speedy online assistance means that your order will not meet your standards? Well, we have that aspect mastered as well.
Quality Help with Essay Writing
We have structured our writing help online service to cater to the quality our customers expect. To achieve this, we have set specific standards that our writers must adhere to. These are:
We do not tolerate plagiarism. That is why we use a credible plagiarism checker to ensure that any assignment done by our writers is 100% original. Plus, every task we take up is written from scratch.
After we check your assignment for plagiarism, our in-house editor goes through it to ensure that the assignment question has been comprehensively answered.
We comply with the instructions left by our clients for every order they place. With our service, you will always get your work done as per your specifications.
Our customer support team is available for you around the clock. So, you get updates on the various milestones of your assignment. We provide reliable communication to keep you abreast of how your paper is progressing.
With these policies, we can guarantee essay help that will assist you in improving your performance.
Affordable Essay Writing Assistance
Affordability is another chief concern many college students have when they are sourcing essays help online services. Consequently, we offer competitive rates beefed up by the many perks and freebies available to our clients. If your friend also wants help with their assignment, you can recommend us to them. When they use our 'write my essay for cheap' service, both of you can enjoy a discount through our referral program. If it is your first time working with us, we have a discount for you too! When you require help over the holidays, we have holiday discount offers just for you.
There are free samples on our website that can prepare for any writing you need to do. Also, we do not bill our customers for any title and reference page we write for them. We also allow our clientele to request for specific writers at no extra cost. So, if you have worked with one of our experienced personnel before and you liked their work, you can ask for them.
A Service Designed to Work for You
The process of accessing professional essay help has been dramatically simplified on our platform. We strive to save you money and time too. You can easily create an account with us and place your order. For your college task or any other academic level, our user-friendly order form allows you to quickly designate the kind of work you want to be done. All you need to do is indicate the academic level, assignment type and then leave the special instructions for your assigned writer to follow. Then you rest as you receive free messages and notifications on how your order is coming along.
We are here to handle any writing tasks you may have. Order your task now and get the quality, timely, and cheap essay writing services we are known for. There is no need to browse the web for any other service. Try our quality guarantees today.