Dissertation Editing Service
Need to have a paper done?
Don't miss your deadline – order right now!
Get Incredible Papers from a Top Dissertation Editing Service
In your student life, you will be identified by your project and may need to revise your finished dissertation multiple times before submitting it to your college or publication. In your work, you need to justify why the project is essential. Ask yourself what concepts, scholarly ideas, and debates you find interesting. The most crucial stage of all is the revision process, where you will need to check if your document addresses all the areas outlined in your assignment prompt.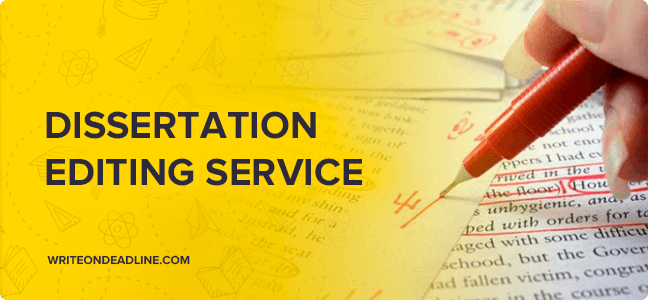 Please note that editing a dissertation is much more than checking for grammar and syntax. The goal is to make the ideas developed within your text as clear as possible. It is your chance to present your ideas holistically and ensure that the evidence works to strengthen your points. If you have no idea how to proceed with the proofreading process, don't worry. Our company has been created with the sole mission of helping students with custom dissertations, editing, and writing assistance. Find out more here.
Why Are Dissertations Editing at First Place?
Editing is one of the most misunderstood and least appreciated stages in the dissertation writing process. As you sit down to write your paper, you will likely be aware of the various standards and targets that you need to work towards, such as the specified word limit, the level of writing expected, the chosen formatting, and the need to present your ideas and evidence logically and transparently. That said, don't be too preoccupied with the revision process at the beginning of your project as you may feel reluctant to get started on the actual research and writing. We recommend making clear boundaries between the writing and proofreading phases.
Here, editing implies the broad intellectual task of improving a paper's quality and format through revision and critique. Dissertation proofreading is sometimes used to refer to the narrower task of checking such aspects as grammar and spelling. This is best done as the ultimate step in the revision process. The goal of revising your thesis is to ensure that all the information required is comprehensively covered and the document adheres to all the requirements.
Who Needs Specialized Editing Assistance?
Students tasked with writing their dissertations can experience a range of feelings. Revising is particularly challenging after the relatively creative and time-consuming processes of research and drafting. In any case, it can be particularly challenging to improve on a piece that you have already spend days creating. Don't worry — we have skilled dissertation proofreaders mandated to check your task.
Students may also need help from specialized dissertation proofreaders because they lack the necessary proofreading skills or linguistic challenges. Do not panic — everyone gets stuck. When this happens, know that we have talented editors ready to check your writing.
Where Can a Student Get a Talented Dissertation Editor?
When searching for specialized help with your dissertation, please understand that you have to find reliable writers. It would help if you ensured that the dissertation editor hired to work on your project has the essential academic credentials and know. When your editor understands the intricate elements involved in effective proofreading, you stand a better chance of submitting exceptional work.
There are a few places where you can quickly get someone to check your work while saving on time. The first alternative, for most students, is to order a proofreading service from a freelancer. However, while some of these individual editors are genuine, others cannot be reliable and cause some challenges for you.
The safest and most trustworthy place to find a dissertation editor is a top service like ours from our experience. The main reason for this is that we have adopted strategies and safeguards to protect our clients. You can be sure of a hassle-free and secure process.
Why We Are the Best Dissertation Editing Service?
Not many proofreading companies can claim to deliver quality work with the consistency that we do. We have measures to make sure that all our clients get what they pay for — a fantastic level of proofreading on a secure platform. We have perfected our hiring processes, making sure that we only hire competent masters and Ph.D. editors to deliver. The one who applies to be considered has to pass through a series of tests and are asked to supply samples and evidence of academic credentials. You can relax knowing that all our dissertation editors have what it takes to deliver.
We want you to understand that quality proofreading does not have to be expensive. We have found a way to combine affordability, safety, and reliability in one package through our clearly outlined pricing policy. Our clients also enjoy fantastic price reductions when they use our amazing bonus system.
Another reason to work with our dissertation editors is that our process is entirely private and confidential. Any data you share on our website will be safeguarded using astounding data encryption.
Students who engage our dissertation editors also benefit from friendly customer support around the clock. Whenever you need your work edited, ask. Be sure that you are in a safe place. The agents are also prepared to answer any questions or address any concerns regarding all our services, including academic writing.
We always deliver early on projects, even when the deadline appears too close. Don't worry about dissertation editing services delaying your project submission. Our service is religiously committed to making sure that all deadlines are adhered to.
When you ask us to check your work, you also get to benefit in the following ways:
Astounding quality at meager prices
Direct interaction between clients and editors
Discounted rates for every dissertation
Money-back guarantee
Go Ahead! Order Editing and Proofreading Assistance Here
You should never submit projects that are filled with typos and errors. Our editing service is ready to help with making your thesis perfect. Order custom help from a talented editor here.