Essay Editing Service
Need to have a paper done?
Don't miss your deadline – order right now!
Master Your Academic Success with writeondeadline.com's Essay Editing Service
Are you in the midst of drafting your college essay? Have you poured hours into crafting the perfect piece, only to be unsure if it hits the mark? Or perhaps you are looking to elevate your essay to the pinnacle of excellence? Enter writeondeadline.com's esteemed essay editing service, the ultimate solution for every student's essay concerns.
---
The Importance of College Essay Editing
Your college essay can make or break your admission process. It's not just about the story you tell but how you tell it.
First Impressions Matter: Your essay is often the first glimpse colleges get of your personality, your aspirations, and your capabilities.
Voice and Clarity: It's essential to ensure that your essay's message is clear and that it truly represents your voice.
Avoid Costly Errors: Grammar, punctuation, and sentence structure errors can detract from your essay's overall impression.
---
Essay Editing Service: Unveiling Perfection
Our essay editing service doesn't just proofread your essay. We transform it.
Expert Editors: Our college essay editor team comprises experienced professionals who know what colleges are looking for.
Detailed Feedback: Not just corrections. We provide recommendations to elevate your essay's quality.
Fast Turnarounds: We respect deadlines. Get your refined essay back swiftly.
Affordable Rates: Quality doesn't always mean exorbitant prices. Our rates are student-friendly.
---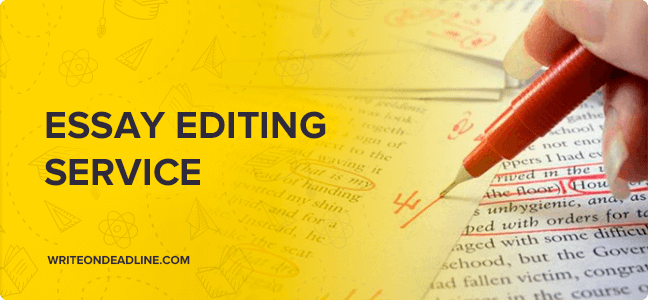 Tailored Solutions for Different Needs
Every essay is unique. So, our approach to every essay is custom:
Structural Check: Ensuring a logical flow from introduction to conclusion.
Grammar and Syntax: Fine-tuning the essay for grammar, punctuation, and clarity.
Content Review: Checking if the content aligns with the essay prompt and makes a compelling argument.
---
College Essay Editing: Beyond the Basics
Professionalism. It's a word often thrown around, but here, we live by it. Our essay editing services dive deeper than surface-level corrections.
In-depth Analysis: Every word, every sentence, and every paragraph is scrutinized.
Personalized Approach: Our college essay editor team works closely with you to ensure your voice remains intact, only clearer and more persuasive.
Confidentiality Assured: Your essays are your personal stories. We respect that and guarantee utmost confidentiality.
---
Why Choose writeondeadline.com's Essay Editor Service?
Reliability: Our reputation precedes us. We have successfully assisted countless students in enhancing their essays.
Precision: Our meticulous essay editing process ensures no detail is overlooked.
Satisfaction Guarantee: Our primary goal is your satisfaction. If you aren't pleased with our service, we will work with you until you are.
---
Take the Leap with Our Essay Editing Services
You've done the hard work of writing your essay. Now, let us give it the final polish it deserves. Your success is our success. Don't leave your academic future to chance. Choose the best essay editing service today.
Order Now and Elevate Your Essay to Excellence with writeondeadline.com
---
Remember, an essay is not just a collection of words. It's a reflection of your thoughts, your aspirations, and your dreams. And with writeondeadline.com's essay editing service, you are not just submitting an essay; you are submitting a masterpiece. Don't wait. Let us be a part of your academic journey today.
FAQs about writeondeadline.com's Essay Editing Service
---
1. Who are the editors at writeondeadline.com?
Our editors are experienced professionals specializing in academic writing, many with advanced degrees in their respective fields.
---
2. How quickly can I expect my edited essay?
Typically, our turnarounds are swift, with most essays returned within 48 hours. However, expedited services are available.
---
3. How do you ensure confidentiality?
All essays are encrypted and stored securely. We never share your personal information or essay with third parties.
---
4. What if I'm not satisfied with the edits?
We prioritize client satisfaction. If you're not pleased, we'll revise your essay until you are.
---
5. How do I order the essay editing service?
Simply visit our website, choose the "essay editing service" option, and follow the guided steps to submit your essay.