Essay Editing Service
Need to have a paper done?
Don't miss your deadline – order right now!
Polish Your Work with an Essay Editing Service
You've toiled through thick and thin and written your essay. Yes, it looks alright, but you have doubts about many things, like its structure, grammar, tone, and more. Plus, you don't even know what your lecturer will be looking for when marking your work. So how do you know if you're really on the right path?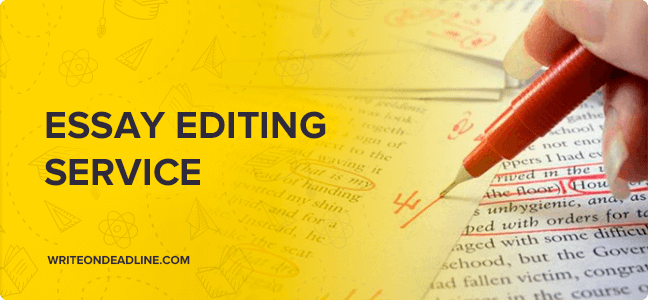 Hire an expert editor to scrutinize your work in all those aspects you found challenging. For instance, we have professionals with years of experience editing and proofreading works of different levels from college to university.
The most competent essay proofreading experts have changed with the transformations in grammar, structures, and examiner requirements. Hence, they are well aware of what to do with any assignment. That means you can have your work edited in a short time so that you deliver on the clock.
Why You Should Hire an Essay Editor
Your thoughts and opinions should be expressed in a clear and organized manner without off-putting language or grammar errors. To make sure you achieve your academic goals, a reviser should check a document to fix all sorts of errors that could compromise your work quality.
Your paper will also be skillfully tweaked to improve its clarity, style, sentence structures, word choices, and coherence so that your thoughts can make more impact on a reader.
Before you decide to place an order with any editing website, it is best to know what value this service can add to your work and performance in detail.
They are proficient in grammar, tone, and structure.
Because of their impressive experience in proofreading, rewrite experts know the common mistakes scholars make and the areas where they can focus on bettering their papers.
Competent essay proofreaders can also help you write in the correct tone based on your assignment's needs. They know that a decent flowing paper is as important as presenting a grammatically and structurally error-free paper. How your essay sounds will determine your presentation.
They know what your professors look for
Essay editors know what lecturers check when evaluating the work and can ensure your assignment stands out from the rest. They are skilled in reviewing papers for all kinds and levels.
They can give you insights.
Professional editors can help you brainstorm on the paper areas where you have failed to address the assignment's request. Sending the paper for scrutiny and checking can ensure you end up with a good academic essay.
Years of experience make them resourceful— and they'll pass on the skills!
These professionals can help you gain lifelong writing skills.
Anytime you find yourself sending a document back and forth for editing means you are learning something. Through essay proofreaders, you can master the different tones for the various kinds of assignments you meet.
What to Look For In the Best Essay editing service
Not all sites that claim to offer paper revision help will deliver to your expectations. It is advisable to seek advice from a friend who's been editing their work online or find out what people say about a website before you place an order. Here's everything to check for in a proofreading service:
Professional reviewers who understand your discipline
Look for essays editing websites with skilled writers in your area of study. For instance, our rewrite experts edit academic papers from various science and tech, management, business, commerce, and social sciences.
What's more, they can help you structure work in the many different writing styles and formats, including APA, MLA, Harvard, Chicago, and more. Your reviser must understand your area of study to polish your work per your specific needs. Lastly, the proofreader should be perfect in different referencing styles.
Fast editing and delivery
If you don't have much time left to the submission date, it makes more sense to pick a service that can go through your work and tweak it to a polished text within a short time.
Are you getting the best value for your money? Well, don't go for the highest rates thinking they offer the best help. Take time doing research, and it will dawn on you that you have been spending in the skies while you can go for cheaper proofreading sites. With our essay editors, you can get a flawless essay for an affordable fee.
If possible, consider 24-hour paper proofreading assistance. That way, you can have your various needs attended to anytime.
Free revision of the proofread document
In some cases, you will need an editor to check some parts of a paper once more. The best reviewers should go through the document and change it per your requirements without charging an extra free. The reviewer should also be ready to answer the questions about your edited work for free.
Confidentiality and Security
The essay editing services should include a stringent confidentiality policy to ensure you enjoy your work's full credit. Plus, the service should have encrypted servers so that all student information and transactions remain safe and secure.
Use Our Cheap Editing Assistance
No matter how good a writer you are, these assignments require some precision level that you may not really attain. Only an essay editor with solid experience reviewing different papers can see mistakes in a paper you think is 100% flawless.
Plus, two minds are better than one. So having another expert revising your essay reduces the chances of submitting the final piece with mistakes.  Save time for other academic tasks by assigning our essay editor to proofread and tweak your assignment per the lecturer's needs. All you need to do is send detailed instructions on what the paper expected of you and the draft you want to be edited.
Our essay editors will check and refine your paper and send it back for your approval. You can always send the paper to and fro until you are satisfied with the work.