Capstone Project Writing Service
Need to have a paper done?
Don't miss your deadline – order right now!
Capstone Project Writing Service at WriteOnDeadline.com
Completing your academic journey often culminates in the form of a capstone project. But with multiple commitments and looming deadlines, you might find yourself in need of some assistance. Enter WriteOnDeadline.com. We offer a premier capstone project writing service tailored to your unique needs.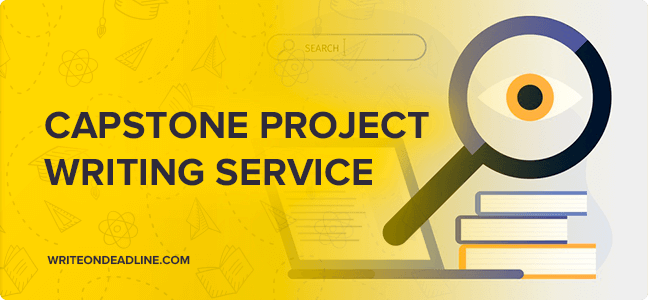 Custom Capstone Project Writing Service
Why Customization Matters
Customization is not just about delivering what you ask for. It's about understanding your unique requirements and molding our service to fit them perfectly. At WriteOnDeadline.com, our custom capstone project writing service ensures that:
Personalized Approach: We match your project with a writer who specializes in your field.
Tailored Content: Your guidelines and specifications shape the project, ensuring its relevance and precision.
Feedback Incorporation: Our iterative process embraces feedback, refining the project until it matches your vision.
Benefits of Using Our Capstone Project Writing Services
We understand that students have a plethora of choices when it comes to writing assistance. However, our capstone project writing services stand out due to the following:
Experienced Writers: Our team is comprised of professionals with firsthand experience with capstone projects.
Plagiarism-Free Content: Every project is unique, and we ensure it stays that way with rigorous plagiarism checks.
Timely Deliveries: We respect deadlines and guarantee the timely delivery of every project.
Affordable Rates: Quality doesn't always have to come at a premium. We offer competitive rates without compromising on the quality of work.
How We Guarantee the Best Capstone Project Writing Service
Comprehensive Research: We dive deep into journals, publications, and reputable sources to back your project with solid evidence.
Structured Writing: A good project isn't just about content but its presentation. Our writers ensure a coherent flow of ideas.
Proofreading and Editing: Our in-house editors meticulously review each project, eliminating grammatical or structural errors.
Seal Your Academic Success with WriteOnDeadline.com
Every academic endeavor is a testament to your dedication, commitment, and hard work. Your capstone project is the crowning jewel of these efforts. Don't let time constraints or uncertainties hold you back. Let our experts give your efforts the polish they deserve.
So, are you ready to impress your evaluators and make a lasting mark?
Don't wait. Opt for the best capstone project writing service at WriteOnDeadline.com and elevate your academic standing. Order now and take the first step towards impeccable capstone project success!
Frequently Asked Questions (FAQs)
1. What subjects do you cover in your capstone project writing service?
We cover a vast range of subjects, from sciences to humanities. Our diverse team of writers specializes in various academic fields.
2. How do I communicate my requirements and feedback to the writer?
Our platform has an integrated messaging system. You can directly communicate with the assigned writer and provide necessary feedback.
3. Are there any hidden charges beyond the quoted price?
No. We maintain transparency in our pricing. The quoted price is final, and there are no hidden or additional charges.
4. How do you ensure the originality of the capstone project?
Every project undergoes rigorous plagiarism checks using advanced software to ensure 100% original and unique content.
5. Can I get revisions if I'm not satisfied with the delivered project?
Absolutely! Client satisfaction is paramount. We offer free revisions to ensure your project meets your expectations.