How to Write a Coursework: Complete Guide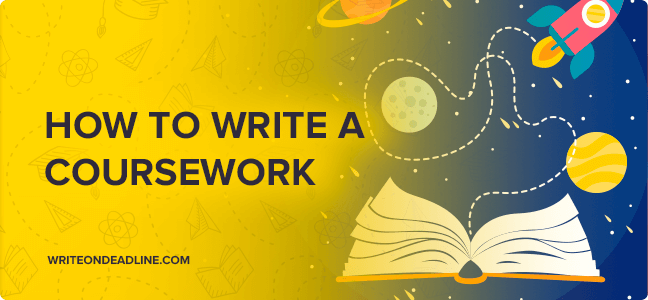 In all academic writing assignments, coursework is the most important. It reveals students` writing skills. This type of academic writing is used to assess a student's understanding of a subject. Coursework combines all the requirements needed in all types of academic writing. This means that a perfect coursework paper requires more than just decent and basic writing skills. However, this has been made easier by our team of experts who have combined their experience and expertise to create a guide on how to write an excellent coursework paper and ultimately improve our writing.
Coursework is a type of academic writing that can show the full capabilities of a student. It offers a different environment from an exam room while giving a student a chance to excel. The coursework assignment is an opportunity if you look at it in a literal way. If you cannot perform well in your exams, it can be a lifesaver, but it can be as challenging as an exam.
If that is not enough, our experts can also craft the best coursework paper for you to reinvent your writing ultimately. They have passed through special vetting and training to allow them to provide the highest quality of work for customers. Our company's primary goal is not to make money but to give the top quality services to students all across the world at affordable prices.
Coursework Simplified – What is Coursework?
Coursework papers can be described as an extension of a school project or essay. The role of coursework varies from different disciplines that a student is majoring in. When writing your coursework paper, conducting relevant research plays a very vital role. The emphasis required is independent for various topics. Doing the research is like an investigation, and every bit of detail matters largely. Act like a detective when searching, analyzing, and investigating sources of information for your topic.
How to Write a Good Coursework
We strongly recommend you to begin your coursework as soon as you are given such a task. Brilliant coursework needs a lot of time, so you have to start as early as possible. Always stay calm so that you cannot mess up your performance due to pressure. Do not rush to complete your assignment on one sitting. Divide your workload precisely and work slowly from day to day. This way, you can have manageable work to do every day, enabling you to pay great attention to your assignment.
Brilliant Writing Tips – How to Start a Coursework
The most important and vital part of coursework writing is research. Always make sure all the sources of information you use are credible. Various sources like material written by authentic writers, visiting the libraries, surfing the internet, or written class notes can be used as great sources.
Try to be organized and make an efficient timetable before you start working on your assignments. Follow your set timetable and avoid rushing your work. Never work on your coursework when your deadline is approaching. In case of emergencies, preset a completion date before you are required to submit your work.
The Perfect Way on How to Structure a Coursework
If you want to excel in coursework writing, you need to have a good structure. This means:
Structuring your coursework is essential for all academic writing for a reason. A structure allows a writer to thoroughly layout your assignments and plans on how your final paper will look.
A coursework structure is created after finishing the studying of your research sources. When doing this, you can loom at good coursework written by other students.
Be careful not to have plagiarism because it is a huge mistake that can cause you to ultimately fail your coursework paper.
Create a structure that can provide you with reliable follow up when writing your assignment.
A Proven and Brilliant Coursework Introduction
The introduction is what draws in a reader. It should be enticing but short. Your beginning statement should always draw in your reader. This will make the argument or information interesting, leaving your reader asking for more. Once you have a great beginning and all the context needed, countercheck your paper to make sure it is consistent and coherent. Don't be discouraged if you write your introduction many times, it means you have a grasp of the right thing to do.
A Great Coursework Body
The body is where a writer states the main argument and fully develops it. Each paragraph should contain a key point clearly supporting an argument. The follow up should support all key points and be backed up with substantial evidence. The body of the essay is the building block for the coursework assignment. The body paragraph will be quite readable if it doesn't contain large chunks of text. Simple paragraphs of 4-5 lines are quite enough.
A Moving Coursework Conclusion
A conclusion plays an important role in paper writing. It helps to reinforce your argument or main idea of your paper. Our experts insist that you have to restate the thesis statement and main idea of the coursework. Without a good conclusion, your essay will look blunt. This will make your assignment seem incomplete.
Reference
https://www.dictionary.com/browse/coursework
https://en.wikipedia.org/wiki/Coursework
All this said, not everyone can put together with outstanding coursework. That's why our experts have dedicated their valuable time and effort to writing brilliant coursework.
Our 'write my coursework for me' service guarantee high-quality coursework papers that no writing service can top. Why hustle any longer with endless coursework assignments. Use our cheap coursework writing service to get outstanding academic papers. Use your time for other things while our writers toil. Order a paper now!
Subscribe to our email newsletter with promotions and discounts.
×
Thank you!
Your email is successfully submited. Check your inbox for future updates.