How to Write a Geography Essay Step by Step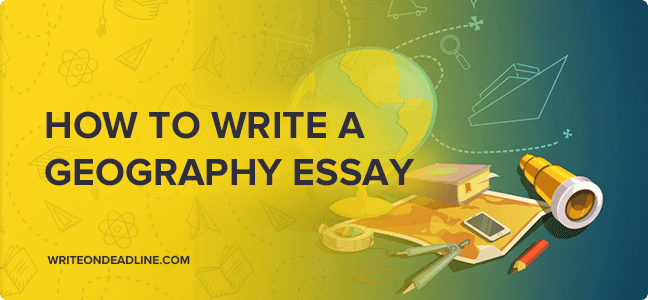 Writing academic papers is one of the many assignments students encounter during the learning period. How to write these papers can be daunting or manageable, depending on how one takes and prepares for them. They are significant for students who want to earn good scores. That is why it is imperative to write them correctly. Besides, each piece you take contributes significantly to your grade, and delivering poor papers means that your grade will be reduced.  Among the documents, you can write geography essays. In case you are assigned to write this article, and you do not know how to do it, do not worry because we are available to assist students as you deliver a winning piece.
What Is a Geography Essay?
The most important thing to consider before writing your essay is to understand it and know its scope. It helps you to provide the right data that covers the specific areas of interest. Therefore, a geography essay definition is not complicated. It is a piece of academic writing that covers the natural phenomenon and can be about the earth's formation, the internal layers, history, or anything that revolves around the appearance and existence of the natural features. Such structures include lakes, tectonic plates, and mountains, among others. It also touches on human-made elements. Having a clear picture of what you want to write gives you the right guide on how to write it. If you get a geography essay stressing you, deliver it to us to complete it.
How to Write a Good Geography Essay to Secure Top Grades
An excellent geography paper must be in line with the question raised and the requirements that your instructor has provided. Some learners who do not know how to write a geography essay miss out on the essential points that make their task less promising. When you incorporate these ideas in your geography article, it will, undoubtedly, be excellent to earn your better scores:
Write the aim of your paper.
Provide the right background study on the topic to enable the reader to understand your essay.
Write the correct parameters for the geography paper. Let the readers know why the piece is essential.
The information you provide must be chronological and from reliable, up-to-date sources.
Write your geography essay from an outline.
Ensure the piece is flawless – free from sentence spelling, grammar errors.
These aspects are crucial to writing a fantastic geography article. Therefore, if you do not know how to write your essay, these geography essay guidelines will give you the right start to write an excellent piece.
Get Expert Tips for Writing a Geography Essay Perfectly
When you do not know how to write your essay, do not let it trouble you much. The ideal way to write your piece is to deliver it to us. Our writers have been in the geography domain for an extended period. Therefore, they have geography essay tips to help you complete an excellent essay. Besides, we write your geography task from scratch to ensure it is unique. The quality of your essay depends on readability. So, you must concentrate on constructing strong sentences and concise paragraphs that contain a single idea. Do not mix the concepts in a single paragraph unless they are related and suited to explain it further. Besides, make the right diction, use active verbs, and make sure your clauses are not filled with acronyms.
How to Start a Geography Essay like an Expert
As it is said, things do go wrong. They start wrong. Therefore, how to start an essay is a significant step that determines its quality and the tone you employ to write it. The most important thing is to understand the geography essay. Without knowing the purpose of your paper, it is hard to write a good piece. Therefore, select an appropriate topic you can write on correctly. Do not let it be too narrow or broad so that you either lack the information to write or write broadly because the data is vast. Start with a hook to encourage your reader. It can be an anecdote, a shocking statistic, or something that can quickly draw the reader's attention.
How to End a Geography Essay in the Most Appropriate Way
Need to know how to end your essays? Well, we can assist you in doing it excellently. You must understand the importance of your task and conclude it correctly. You must write the overall feel on the essay and give the concluding remarks. Writing a perfect geography piece not only involves the body part but also the overall quality touches on how you end it. Readers want to end with take away points to recall from your text.
A Perfect Geography Essay Outline to Complete
A geography outline helps you be on point. It provides the right guide to follow while composing the essay. It also ensures that you do not include irrelevant information that has no value to your piece. A perfect outline can consider aspects such as:
A hook sentence
The thesis statement
Key ideas
Topic ideas
Supporting data
Examples
Concluding statement
The ideas you come up with will depend on the length of your geography essay.
Geography Essay Structure Is Not Different from Other Essays
The way you would write other essays is the same way you complete a geography paper. The geography essay format includes the introduction, body, and conclusion. Each of these sections has specific information that characterizes them. If you fail to meet the demand of any part, you risk your geography piece's eminence.
Aspects That Make an Excellent Geography Essay Introduction
The purpose of an introduction is to shed light on the subject and write the contextual aspects. The background information is to help the reader know the flow of the essay to follow it rightly. Besides, it provides relevant data that make the reader find it worthy of reading the article. It must be catchy, concise to the point, and present a strong thesis statement. Since it is typically the first part that the reader will encounter when reading your essay, you must make it appealing by providing reasons to persuade him or her to keep reading.
How to Write a Perfect Geography Essay Body
Sometimes students struggle on how to write a captivating essay body. However, when you have done proper research, the process is simple. Ensure you have the main points that form your paragraphs and topic sentences that support the ideas. They help you expound on your topic following the purpose you want to achieve if you want to inform, convince, or for any other purpose. The number of paragraphs you write will depend on the length of your geography essay.
Geography Essay Conclusion: The Best Way to Conclude Your Piece
Writing a geography conclusion is an opportunity to convince the reader about your essay. It is not a summary of the points, as many people suggest. It allows you to show the reader that you have concluded and provide a concluding statement on the study's implications.
If you find it hard to write any section of your paper, we have seasoned writers to help you complete it correctly. Our services are affordable with a secure and fast ordering process to get our assistance. Do not hesitate to contact us for a geography essay help. We are reliable. Use our 'write my essay online' services!
Subscribe to our email newsletter with promotions and discounts.
×
Thank you!
Your email is successfully submited. Check your inbox for future updates.