How to Write a Sociology Essay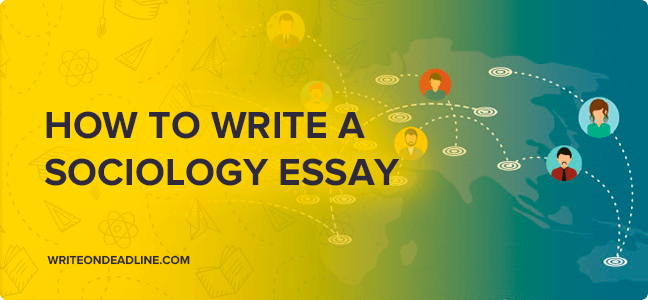 Sometimes, it's not easy to push yourself into writing on sociological topics. How to start? How to build up a structure? How to find solid arguments? If you are still making up excuses, why you cannot start it yet, just read our article. Here's a set of effective tips on working with a sociology essay format.
What Is a Sociology Essay?
Sociology is a science about society. It studies all aspects of its activity. The topics of sociology essays are different. Meanwhile, an essay is a type of creative writing task. If you have a task to perform a sociology assignment, let's see the papers' peculiarities based on social science topics.
Speaking about sociology essay definition, its main principle is that you should build it up in the form of reasoning. In that case, you reflect your position on the topic: attitude to the statement, opinion on human activities, and your perspective about the social phenomenon. Let's see our sociology essay guidelines. Keep reading!
How to Write a Good Sociology Essay: Step by Step Guideline
It's better to stick to this plan: do topic research, choose literature, read/write notes, and everything that can be used for quotes and references. Try to have at least two days for writing and one day for proofreading. Proofread each sentence. For the teacher, the presence of typos and other mistakes is a sign of your laziness, illiteracy, and bad quality of the work.
Tips for Writing a Sociology Essay
If you still have no idea about a sociology essay structure, you must pick up some guidelines from this article. Here are our sociology essay tips to follow:
Epigraph. It should be short, sound clear, and be based on the subject. Teachers appreciate this technique.
Writing style. The abstract implies strict academic writing. Imitation of the style of a writer (in our case, more of a researcher) is not forbidden. Try not to drown in metaphors.
Your reasoning. Formulate it as you like. Try to explain it clearly. You can ask rhetorical questions but do not overdo it. Over time, you will learn how to write them the way prominent scientists do, but it's important to start trying.
For those who have reached this place, the most important advice today is not to postpone writing your essay on the last night before it's submitting.
How to Start a Sociology Essay: Formulate a Problem
As a student, you may get a list of topics in the course program. Sometimes during the course on social theory, you can choose the topic on your own.
How to formulate the problem? It is a challenge for every student. It is obvious that without the problem, the text turns into a set of empty words. Your suggestion will be a question. It would help if you answered in your paper.
---
Read more: 35 Sociology Essay Topic Ideas
---
The second thing you need to know is that there will be some inconsistency while writing. You can propose your answer, and your groupmate can offer an alternative solution. In sociology, nothing is strictly determined. It means that either you and your groupmate may be right, and then, someone else may criticize both of you.
Finally, the problem has many faces and names, so there is no established cliché on how to formulate it. There will be some words as inequality, unevenness, restriction, etc. Due to the increasing number of essays on various topics and the development of different directions in sociological theory, you can easily choose any piece to find an unusual solution and interesting thoughts for the suggestion.
A sociological problem expresses an objective reflection of a case, indicates a certain contradiction between common sense (or a theoretical model), and people's real behavior. If you work on a social problem, you should indicate some form of social inequality or the conflict between the parties.
How to End a Sociology Essay Properly?
It would help if you created a solid and clear conclusion at the end of the paper. Pay attention to the fact that you have started with some statements. Reread them together with the argumentation in the body paragraphs. Make a conclusion based on the statements and your arguments. The conclusion should consist of two parts: the problem mentioned in the topic and your thoughts resulting from argumentation.
Sociology Essay Outline
Why do we need creating a plan for the paper? A structured core of a text is a sign of significant papers. You can start making your plan from the body part. Write down all your statements, try to apply counter-arguments, and find some credible sources that will help you prove your opinion. Then, you can shape the introduction and the conclusion. Try to start with a question, and conclude your paper with the answer.
Sociology Essay Structure
To build up a coherent text, we should divide our thoughts and ideas into parts. Here is the essay structure, where you begin with the introduction. In the introduction:
Explain the choice of topic (what is the significance or relevance of this topic). "My favorite statement concerns the problem…", "The problem with this statement is…", "Everyone cares about the question…", "The relevance of this topic is …"
Reveal the meaning of the statement for social science, 1-2 sentences
Submit the author's point of view. "The author argued (said, thought) from this point of view …"
Interpret your understanding of a certain phrase. Here you need to mention your own point of view (whether you agree or disagree). "I believe …", "I agree with the author of the statement …"
State your position. Go to the main part of the essay.
Also, it will be a plus for you to give information about the author of the statement in the introduction and insert a definition of the chosen field of essay (philosophy, politics, economics, law, etc.)
Let`s speak about building up arguments. You can create a theoretical argumentation of the problem. At least three aspects of the theoretical disclosure of the topic should be presented. For example: to reveal the concept itself, give examples, and analyze features, functions, classifications, properties. You can build up a practical argument or an example from public life. Finally, you need to write a conclusion about where you need to sum up all your statements.
Writing Sociology Essay Introduction: Make It Significant
Summing up the previous information, the introduction is a part where you have to justify the choice of the topic, state of the problem (optionally — a description of the problem), present key concepts, and shape the whole text's structure.
Creating Sociology Essay Body: Make It Logical and Clear
The main part is the logical argumentation related to the consideration of the problems identified in the introduction due to the set concepts and references to the authors and keywords related to them. There may also be a description of cases used as an example, confirming your judgments' accuracy. Sometimes, the essence of the text's main part is to close the content of another part that you abstract.
Building Up Sociology Essay Conclusion
How to make the conclusion sound convincing? The phrase "summarizing all of the above" means that you formulate conclusions based on the main part's arguments. Relate them to the topic and problem statement (make sure that you answered the question that was laid down in the problem statement).
Subscribe to our email newsletter with promotions and discounts.
×
Thank you!
Your email is successfully submited. Check your inbox for future updates.