How to Write an Analytical Essay: Full Guide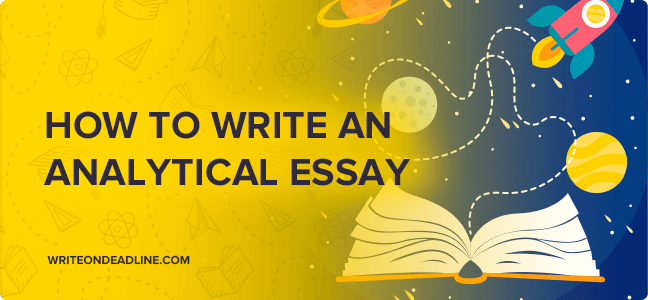 Writing an analytical essay is a pretty daunting task, especially for those students who have never done it before. Such type of essay develops both research and critical thinking skills. That is why you will face this assignment often in your academic career.
Are you interested in learning how to write a great analytical essay to earn the highest grade? Take a deep breath, and read our short but clear manual! We will also explain what you can do if you have no time or desire to work on your academic tasks.
What Is an Analytical Essay? Detailed Definition
First of all, it is important to define an analytical essay. It is a type of academic writing that presents a particular argument and aims to analyze it thoroughly. A writer can discuss anything in such type of work: from a film to a specific event. Summarizing only well-known facts in the analysis paper does not make any sense. The goal is to evaluate things based on the information from credible sources as well as personal experience.
For instance, if your analytical essay is about a movie, do not make it a summary of the plot. You may retell it in short, but make sure that 90% of your work is the critique of acting, scenario, directing, etc.
You will most often have to write analytical papers for your English composition, literature, and history classes.
How to Start an Analytical Essay: Pre-Writing Stages
There are several types of analytical essays. To begin your work, choose the proper type of this essay unless your teacher specifies it. Here are the options:
Character analysis;
Critical analysis;
Literary analysis;
Poetry analysis;
Process analysis;
Rhetorical analysis.
In a character analysis, you should pick a hero from a fiction story and evaluate his or her actions, appearance, and development. In a critical analysis, you should select a specific text and observe it from all possible aspects. In a literary analysis paper, one should discuss the piece of writing. Finally, a rhetorical analysis is the one where a writer should look at the topic in greater detail and prove a personal standpoint. It reminds us of persuasive writing.
One more thing to do at the beginning is to pick a topic. In many cases, teachers do not assign a specific issue to analyze as they would like to hear your ideas and see how well you can select topics.
To pick a good topic, focus on things that matter to you. Try to choose from your area of competence. However, it should relate to the subjects that you study in class. The topic should be fresh and interesting. You may brainstorm with your classmates to select the best idea from the list of possible questions. Always consult your teacher. This way, you will be sure that the topic is relevant and you can start writing your paper.
Do you need more tips on writing an analysis? Keep on reading this post then!
---
Read more: 75 Amazing Analytical Essay Topic Ideas
---
Find out How to Write a Good Analytical Essay
If you want to earn the highest grade instead of a passing one, you should know the qualities of good analytical writing. Keep in mind four features that will help you to succeed.
Involve more than a summary of what you critique. It is better to avoid retelling the piece and focus on the assessment from the beginning. Explain how, why, and for whom the content was created. Mention whether it was effective or not.
Unlike some other types of essays, an analytical paper always needs a thesis statement that you should defend in the body. Let the reader know what to expect from your writing.
An analytical essay should always be backed up by research even if you are sure that you mastered the topic perfectly. Your analysis will not sound convincing or objective without the supporting facts and examples from the externals sources.
Finally, an analytical paper should have a clear structure, and it is time to talk about it in details.
How Should an Analytical Essay Outline Look?
So, once you are done with research (the process of collecting and evaluating trustworthy information), start working on the paper's outline. An outline of your essay depends on its structure, but it will most often include five common sections: introduction, three body paragraphs, and conclusion. You will need to develop an outline in any case not to get lost with your writing. It helps to avoid writer's block and make your paper flow smoothly and logically. Your outline should not look like a template: it must have particular details such as paragraph's names and purposes. This way, you'll end up with a clear and concise piece of writing.
A Closer Look at Analytical Essay Structure
We mentioned that every section of an outline might have subsections and several necessary elements. While the thesis statement is an integral part of every intro, each body paragraph should have a topic sentence (claim), evidence, some examples, conclusion, and transitions. Finally, a conclusion should always start with the rephrased thesis statement. The rest of the elements may lightly vary from paper to paper depending on the topic and purpose.
Developing a Catchy Analytical Essay Introduction
An introduction should have three critical elements. They are:
Hook sentence;
Thesis statement;
The way a writer plans to prove the main argument.
Hook your reader from the start. Draw the reader in with a joke, anecdote, rhetorical question, quote, fact, statistic, metaphor, etc. Think wisely: it is not a good idea to start an essay on a sensitive topic like school bullying or domestic violence with a joke.
After the hook, introduce your topic and explain why the question is worthy of paying attention. Would it beneficial for your community to learn more about the specific problem?
Add a killer thesis statement in the next sentence or two. Try to make it as brief and clear as possible. It should have a persuasive tone. Your thesis statement should not sound too broad – narrow it down. Then, start writing a body.
How to Craft an Analytical Essay Body
As mentioned above, a body of the analytical paper should have several elements. Start every paragraph of the body with a claim – topic sentence. It should give you reader a clue what you'll discuss in this section. Next, come up with the claim itself. It should dive into a smaller piece of the main overarching point. The topic sentence may consist of more than one claim. Then, offer evidence from the sources you used to collect. That could be information from books, magazines, newspapers, scholarly articles, websites, videos, interviews, etc. Add in-text citations, direct or indirect, to prove your thoughts. Real-life examples or episodes from your own experience will also appear handy.
Crafting an Impressive Analytical Essay Conclusion
The main purpose of an analytical paper conclusion is to make the reader realize that the raised question was important to discuss/answer. You should do your best to leave a long-lasting impression, motivating the readers to study the topic independently and find new solutions.
The last body paragraph should lead the reader to your conclusion with the help of transition words. Start a conclusion with the transition as well (for example, "as mentioned above," "to sum up," etc.)
More Analytical Essay Tips
What are some other useful tips? You should always triple-check your finished paper before submitting it to your teacher. Various online tools can help with your proofreading and editing, but we have a better idea for you.
Our last tip would be hiring advanced academic essay writers online. At our cheap analytical essay writing service, you can order custom essay papers for sale of any type or proofreading and editing of your draft. Our prices are affordable, so you do not have to worry.
Place an order on our website to see how we can help you!
Subscribe to our email newsletter with promotions and discounts.
×
Thank you!
Your email is successfully submited. Check your inbox for future updates.