How to Write an Economics Essay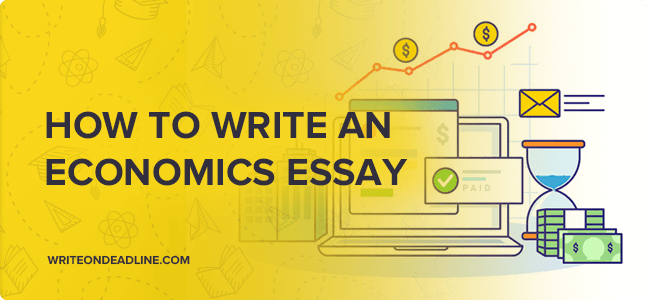 There are a variety of reasons why a student might seek expert assistance in composing an essay. One of them is poor writing ability. To attain a stellar academic performance, you must possess apt writing skills. Most academic tasks within the field of economics involve writing. These include term papers, standard tests, coursework, and homework assignments.
To enhance your composition ability, you must undertake thorough practice. It will boost your skills as well as confidence. What's more, you can seek help from professional economics essay writers. However, be careful not to fall victim to fraudulent writers who advertise quality services but do not deliver the desired quality.
What Is an Economics Essay? Get a Full Understanding
Have you ever wondered about the right economics essay definition? An economics essay primarily deals with analyzing supply and demand within a given market or various market types. The student must be able to define different methods in which business owners utilize resources and how resources get distributed within various markets.
As such, this discipline empowered the student to monitor trends in a given market and then project future market trends. Instructors might assign essays to their students to test their level of understanding of various economics concepts.
Guidance on How to Write a Good Economics Essay
In order to draft a high-quality composition about economics, you must strictly adhere to the instructions of your particular assignment. Most of the time, your instructors will provide a grading rubric in addition to special economics essay guidelines. It is highly crucial to observe all the stipulated instructions exactly. In case you omit some important instructions, this might cost you a large number of scores.
The most common instructions comprise the following.
Word count
Formatting style
Minimum number of citations
Deadlines
Specific sources to research from
Following all the rules will greatly enhance your chances of attaining good performance.
What's more, ensure you select a relevant topic. At times, the instructor might specify the topic. Offer deep insight into your arguments to eradicate any confusion that might arise due to shallow discussions.
Surefire Tips for Writing an Economics Essay
All essays require research to discover extra information about a topic. Spare some time and undertake proper research. Jot down brief notes as you gather knowledge. In addition to this, create a separate list of citations that you will append to your essay in the bibliography segment.
If you are stuck with an economics paper, you can obtain professional economics essay tips from our seasoned gurus. Our agency operates round-the-clock. It means that you can contact us anytime you need help. We hire professional economists who can advise you accordingly and assist you in improving your writing ability.
Drafting an Immaculate Economics Essay Outline
You might be wondering, what is an outline? Your outline is a summary of all the information you obtained during your research procedures. You might have conducted research using various sources such as:
Websites
Forums
Lecture notes
Textbooks
Newspapers
Economics journals
Magazines
Regardless of the information source you used, ensure that all related ideas are grouped under a single subtopic. It will enhance the depth of your discussions and make your economics essay more organized.
Another factor you should consider is to ensure that all the information you obtained is related to the main topic. At times, students perform poor essays because they veer off the topic and craft irrelevant content.
What Is the Appropriate Economics Essay Structure?
To know the right economics essay format, you need to consult your assignment instructions. Various institutions or professors prefer their students to write using a particular format. Nevertheless, any composition must introduce the reader to the topic. After that, the writer needs to discuss all of his/her points comprehensively. It ensures that the essay's information is sound enough to convince the grader to award high scores. Finally, you must include a closing paragraph stating your observations or general opinion about the topic.
A Guide on How to Start an Economics Essay
Even the best writers experience "writer's block." It is a phenomenon whereby you completely lack an idea of what to write, especially if you have frequently been writing. To begin your composition easily, you need to go through your outline carefully. Once you go through your pre-written points, you will automatically gain extra ideas on writing. As such, the process of composing the essay will be much faster and simpler.
Advice for Writing an Economics Essay Introduction
The introduction is a significant section of your composition. It is you're the only one opportunity to grab the audience's attention. You need to make it as attention-grabbing as possible. Your initial sentence can include a witty remark or a statement that stimulates your readers' high levels of curiosity.
Next, compose the thesis to your essay. It is a statement that enlightens the readers on why you are drafting the economics essay. You state your topic and how you are going to address it. As such, your audience has something to look forward to. A banal introduction will reduce the reader's morale in proceeding with reading your composition.
Steps to Crafting Your Economics Essay Body
Within your composition body, you need to expound on all your main points of discussion precisely. A given idea should be drafted in a single paragraph/subtopic. Start the paragraph with an opening sentence that generally states the idea.
After that, you should give more explanations that support your claim. Such might include examples, real-life episodes, and credible statistics. Do not forget to include citations to any information obtained from another author's work. Failure to cite referenced materials is usually deemed as plagiarism. It might get you disqualified from the course, or you might be forced to repeat the academic program.
Advice on How to End an Economics Essay
The ending of your economics paper offers the reader your final opinion about the topic you were discussing. Some learners write good content within the body of the essay but write poor conclusions. They do not offer any significant details about the essence of the paper. As such, the overall quality of their papers reduce.
Through our company, you will be able to obtain expert guidance on how to complete various economics essays. There are numerous examples that you can download and use as a writing template. As such, you will learn different methods of concluding your papers.
Writing the Economics Essay Conclusion
Do not forget to restate your thesis statement in the last paragraph of your paper. Nevertheless, you should not repeat the exact statement. Draft in different words. Next, offer a summary of your essay points/ideas to add emphasis. Finally, explain why it is necessary to take a certain action or give your conclusive statement on the topic. It demonstrates that you are well-versed on the topic.
Call Now for Immediate Help
At times you might be stuck with an economics essay without knowing where to obtain tangible help. Our professional company can offer customized solutions to your specific essay writing problem. Hire us and receive unique content created by the smartest experts.
Subscribe to our email newsletter with promotions and discounts.
×
Thank you!
Your email is successfully submited. Check your inbox for future updates.