How to Write an Exploratory Essay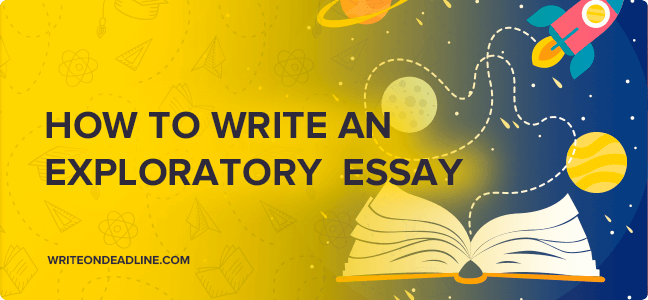 Are you expected to complete an exploratory paper, and you're worried because you do not know where exactly to start? You're among the millions of students who don't know how to go about creating such a paper. As a scholar, life can get very demanding since you're expected to complete many assignments, go to class, and do your exams. If you're not aware of how to go about crafting such a paper, no need to worry. Do not let the stresses of your academic life get to you, yet you can hire the best assistance. Our service is here to guide you through the nitty-gritties of creating such a paper. Furthermore, if you need the article written for you, we'll gladly do it. This guide covers the definition and the steps on how to write a good exploratory essay.
The Ultimate Guide on How to Write an Exploratory Essay
Of course, you're wondering, "what is an exploratory essay?" Don't let the name scare you! This type of paper isn't as complicated as you assume. Still, it is quite distinct from an argumentative paper or any other essay you've handled before. Rather than write to persuade an audience of how valid a thesis is, you will write to discover a problem and probably form a few preliminary conclusions on how it could be addressed. Still, there is another element of this kind of paper that is equally significant. In essence, an exploratory essay reflects your reasoning and crafting process while working through an issue. It is a description of how, why, and when you accomplished various kinds of research. This kind of writing is on how a person works through problems that need researching and writing. It requires you to be introspective and consider your thought process while working through an issue if you expect your text to turn out well. We understand that most students experience trouble creating such papers, which is why we've created a guide on how to write an exploratory essay step by step.
Steps on How to Start an Exploratory Essay
Starting is always the hardest step. Even the best writer in the game will always find it hard to begin crafting despite having years of writing papers. Fundamentally, you know how to begin an exploratory essay. The most crucial question to ask yourself is, "what am I writing on?" Has your professor assigned you with a specific topic that you should handle, or do you have the freedom to choose any topic? Each option has its pros and cons. If you've been instructed to craft on a particular topic, lucky for you! You don't have to spend a lot of time searching for topic ideas. The downside is that the problem may be tedious or difficult. So, identifying the correct answer to the query may be hard. If you have the freedom to choose a topic, the good thing is that you can write on any topic that you prefer to handle. The problem is that it can be challenging to choose an interesting yet relevant text, and find all the necessary information on it. Either way, make sure that you spend adequate time on the topic and find relevant research sources to create good content. Once you've identified the topic and research sources, you can start crafting the paper. You need to know that there is a particular structure of an exploratory essay that has to be followed.
Exploratory Essay Structure
Introduction
The intro has to draft the explored problem and why it is significant. Additionally, you have to concisely discuss several probable causes of the problem, the people and institutions associated with the problem, and several likely solutions to this issue. Also, include a short overview of the kinds of sources that you studied during your analysis.
Body Paragraphs
These will discuss the procedure of inquiry that was followed to study your problem. They should comprise:
The intro of your sources (author, title, publisher, kind of media, date of publication, publisher, etc.) and why you prefer to utilize it in your paper.
Significant information you discovered in the source on your explored problem.
The importance and dependability of the information in connection to the problem.
Individual introspection on how important the source was to you, how it enabled you to think differently on the issues, or probably how it did not meet your expectations leading you to a fresh direction in your study, therefore, transitioning you into the next source.
Conclusion
Here, you restate the problem you've explored, outline various probable causes, review involved people and institutions, and highlight various possible solutions. At this point, if you still have any queries on the problem, review them now. Discuss why you speculate that you still have queries concerning the explored problem, places you might search to answer these queries, and what other kinds of research you would be required to perform.
---
Read more: 65 Exploratory Essay Topic Ideas
---
Extra Tips for Writing an Exploratory Essay
We've provided more suggestions for writing an exploratory essay:
Choose an interesting yet relevant topic
Ensure that you can gather adequate information on your issue. Still, it has to be something that you're interested in.
Conduct as much research as possible
There's so much information online. Go through various sources to ensure that you choose the most relevant ones for your paper.
Coming up with an outline is crucial because it ensures you go through every step you have to include in your paper.
Do not procrastinate your assignment. This leaves you with little time to cover all the necessary steps. So, start early that way, you have ample time to come up with a quality paper.
You will make various mistakes in your content. So, leave time to go through your document to ensure that it is grammatically correct and has been properly formatted.
Order Today for Expert Assignment Help
If you're still not conversant with how to make an exploratory essay, no need to worry. We got you covered! Order from our essay writing service today for a professional essay writer to handle your paper for you.
Subscribe to our email newsletter with promotions and discounts.
×
Thank you!
Your email is successfully submited. Check your inbox for future updates.