100+ Religion Essay Topics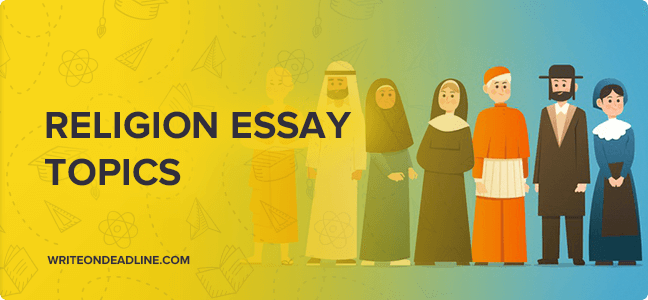 The realm of religion has always been a deeply fascinating and, at times, contentious area of study. The possibilities for exploration are vast, from theological doctrines to the impact of religion on societies. If you are a student or an enthusiast looking to delve into religious studies through essays, you've come to the right place.
What is a Religion Essay?
A religion essay is a piece of writing that explores topics related to spirituality, theological doctrines, the historical evolution of religions, religious practices, and the impact of religion on various facets of society. It provides an avenue for individuals to critically examine and articulate their understanding of a religious subject, fostering both introspection and academic analysis.
Guide on Choosing a Religion Essay Topic
In 100-150 words? Here goes: Choosing a topic for a religion essay can be overwhelming, given the vastness of the subject. Start by narrowing your focus. Are you more interested in theological concepts, historical events, or social impacts? Research current events related to religion, as contemporary issues can provide fresh perspectives. Reflect on personal experiences or curiosities. It's always easier to write on topics you're passionate about. Lastly, ensure your chosen topic has enough credible sources available for a well-researched essay.
Religion Essay Topics Lists
Theological Concepts
The Concept of God in Abrahamic Religions
Karma and Reincarnation in Hinduism
The Significance of Nirvana in Buddhism
Sufism: The Mystical Dimension of Islam
The Holy Trinity in Christianity: Interpretations and Beliefs
Historical Events
The Crusades: Religious Zeal or Political Conquest?
The Reformation and its Impact on Christianity
Spread of Islam: Historical Perspectives and Causes
Ancient Egyptian Religion and its Influence on Society
The Role of the Vatican during World War II
Social Impacts
Religion and its Role in Shaping Moral Values
The Influence of Religion on Art and Architecture
Religion and Politics: A Dangerous Liaison?
Impact of Secularism on Modern Societies
Feminism and Religion: Points of Convergence and Divergence
Contemporary Issues
The Rise of Atheism in the 21st Century
Religion and LGBTQ+ Rights: Conflicts and Resolutions
Modern Religious Movements and Cults: A Study
Religion in the Age of Technology: Evolution or Dissolution?
Climate Change: Religious Perspectives and Responsibilities
Personal Reflections
My Spiritual Journey: Discoveries and Challenges
Religion in My Family: Traditions and Changes
The Role of Prayer in My Life
Personal Experiences with Religious Tolerance and Intolerance
Finding Peace: A Personal Encounter with Meditation
Historical Contexts
The Fall of Constantinople: Religious Implications
The Establishment of the Church of England
Comparative Analysis: Spread of Christianity and Islam in Africa
The Dead Sea Scrolls: Relevance and Discoveries
Influence of the Byzantine Church on Orthodox Christianity
Theological Doctrines
Comparative Analysis of Heaven in Different Religions
The Role of Angels and Demons across Religions
Salvation in Christian Theology
Islamic Views on Predestination
Hindu Views on Creation and Cosmos
Philosophical Questions
The Problem of Evil in Religious Thought
The Existence of God: Arguments For and Against
Morality: Divine Command Theory vs. Secular Ethics
Free Will vs. Divine Determinism
The Concept of Soul in Various Religions
Modern Interpretations and Movements
Progressive Christianity: A New Age Movement?
Jihad: Misunderstandings and Clarifications
Spiritual but Not Religious: The Rise of Secular Spirituality
Neo-Paganism and Modern Witchcraft
The Baha'i Faith and Its Universal Message
Religious Practices and Rituals
The Significance of Hajj in Islam
Christian Sacraments: Symbols and Meanings
Hindu Festivals and Their Socio-religious Importance
Jewish Dietary Laws: Significance and Practice
Zen Buddhism: Practices and Philosophies
Religion and Society
The Role of Religion in Contemporary Politics
Religion and Education: Benefits and Drawbacks
Religious Perspectives on Healthcare Ethics
The Impact of Religion on Family Structures
Religion in Media: Representation and Bias
Interfaith and Comparative Studies
Comparative Study of Abrahamic Religions
Eastern vs. Western Spiritual Practices
Similarities in Creation Myths Across Religions
Comparative Study of Ascetic Practices in Religions
Rituals of Death and Afterlife Across Cultures
Gender and Religion
Female Figures in Christianity: Beyond Mary
The Role of Women in Islamic Societies
Feminine Divinities in Hinduism
Gender Roles in Traditional and Modern Jewish Practices
The Evolution of Gender Norms in Buddhist Traditions
Religion and Science
Religious Perspectives on Evolution
The Vatican and Astronomy: A Historic Relationship
Islamic Contributions to Science and Mathematics
Hindu Cosmology and Modern Astrophysics
Buddhism and Psychology: Overlaps and Insights
Mysticism and Esoteric Beliefs
Kabbalah: Jewish Mysticism Explored
Christian Gnostic Traditions
Sufism: The Heart of Islamic Mysticism
Tantra in Hinduism and Buddhism: Misunderstandings and Realities
The Rosicrucians: History and Beliefs of a Mysterious Order
Sacred Texts and Their Interpretations
The Bhagavad Gita: A Philosophical Analysis
Parables in the New Testament: Meanings and Implications
The Talmud and Its Relevance in Contemporary Judaism
The Tao Te Ching: Exploring Daoist Philosophy
Themes of Justice and Mercy in the Qur'an
Religion and Art
Depictions of Buddha in Art: Evolution and Significance
Christian Iconography: Symbols and Their Origins
Islamic Calligraphy: Beauty in Sacred Texts
Religious Themes in Renaissance Art
The Influence of Hindu Mythology on Classical Dance Forms
Faith and Modern Challenges
Addressing Climate Change: Religious Responses and Responsibilities
Religion in the Digital Age: New Forms of Worship and Community
The Ethics of Genetic Engineering from Religious Perspectives
Faith Healing vs. Modern Medicine: A Comparative Analysis
The Role of Religion in Modern Mental Health Practices
Minor Religions and Sects
Jainism: Principles of Non-Violence and Asceticism
The Yoruba Religion: Understanding Orishas and Rituals
The Alevi Community: Beliefs and Practices
Zoroastrianism: History and Current Status
The Raelian Movement: Extraterrestrial Beliefs and Controversies
Call to Action
Overwhelmed by the vastness of religious topics or unsure how to articulate your thoughts cohesively? Let WriteOnDeadline help! Our expert essay writers are well-versed in diverse religious subjects and can craft an impeccable essay tailored to your needs. Don't hesitate – reach out to us today!
Subscribe to our email newsletter with promotions and discounts.
×
Thank you!
Your email is successfully submited. Check your inbox for future updates.