Write My Literature Review
Need to have a paper done?
Don't miss your deadline – order right now!
Professional "Write My Literature Review" Service
There is a lot of time and energy to write a review of other scholars' works. When a student decides on a project, the literature review is perhaps the most important bit. It comes directly after the abstract, and it aims to give a background of your project. Before you write about your research work, the findings, and analysis, one needs to know your project's background. This is what a review of literature entails. It brings the reader up to speed with why you are doing the project and what past factors have contributed to the need to undertake that project.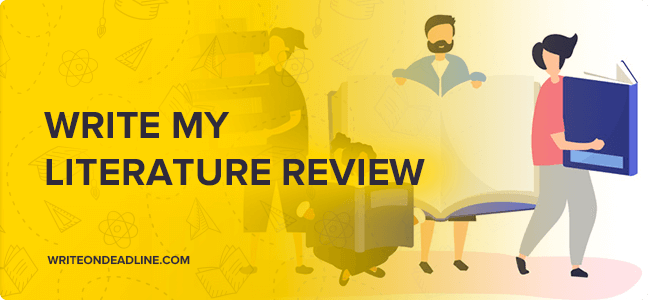 Writing reviews of existing works require you to spend time in the library, on past journals, and online searches. The only hindrance to this that perhaps makes students look for a service that can effectively 'write my literature review' is lack of time. One has to split whatever time they have to attend classes, write essays and assignments from other courses, study for their examinations, and still deal with other aspects of their lives.
Does this describe your situation right now? Are you stuck on where to start? Do you feel like writing the review by yourself will result in a poor quality paper? Do you feel like you need to get a professional service provider to 'do my literature review' for you? Are you unsure of where to get this professional literature review help because you have never used writing services before? If this is what you are experiencing right now, then let us draw your attention to one of the leading expert writers in this industry. We are committed to excellence in providing just what our customers desire. Our writers will give you a piece that will impress the readers and want to know more from your project report.
We Have the Experts to Write Your Literature Review
We attribute our success in providing these services to our writers. It is only with a team of such professionals that we have always delivered quality papers to our customers. Their dedication to our company policies ensures that we deliver just what we promise. Since inception, we have a hand in all quality essays in good time for our clients. Thanks to our writers, who are both hardworking and competent.
Why Should I Choose You to Write My Literature Review for Me?
Over the years that we have been providing this service, we pride ourselves on having been able to successfully help hundreds of thousands of students all over the globe. You may be wondering what it is about us that makes everyone contact us to write their literature reviews.
We offer reasonable rates.
When giving quotations for our writing services, we have in mind that we are dealing with students. We understand that not everyone comes from a wealthy background. This way, we standardize our rates to make sure anyone who wants to order from us will not shy away because of the price.
We have a no recycling policy.
When it comes to the kind of literature reviews we produce, our uniqueness puts us a mark above the rest. Our anti-plagiarism rule is what makes up maintain the high quality of work we do. Before sending out essays to our customers, we perform checks for spelling, grammatical errors, and incorrect punctuations.
Your information is well protected.
Our clients' privacy is vital to us. Any personal information you provide us with when ordering your paper is safe with us. We cannot disclose it to a third party.
Your ultimate support system.
We always want our customers to trust us. We want them to be sure that they can relax and believe we will work on reviewing the literature to our level best to provide perfect services to them. That is why our customer care services are open all day at any time. Should any customer have any queries, there is always someone to answer them.
We know that most of our clients come to us because they cannot deliver their work on time. It would, therefore, beat logic for us to delay the delivery. Our experts work round the clock to ensure that all works are completed in good time. We also like to give our customers time to go through their papers to contact us for any corrections.
We allow you to choose your writer.
''Can I choose someone to write my literature review for me?'' You most definitely can. Those who have used our literature review writing services before may have a preference for specific writers. You can request to have them undertake your work. For the first-timers, we make sure to select the writer best suited for your assignment.
Write My Literature Review Service
We only allow payments after an order has been placed. How do you do that? It is quite easy.
Start by registering onto our site via your email, then log into the order page. While there, give as much information as you need with regards to your literature reviews. Please tell us what your topic is about, how many pages you need your review to be and the submission deadline.
You will get a response within a minute of submitting your request. While here, you can request for a literature review writer of your choice. If you do not have any, we have plenty of writers well suited to take up handling the literature review. Once you have had a proper discussion, deposit the price you have settled on in your account.
Your writer will begin the task. Once done, you get a notification asking you to review your work. If you approve of it, you deposited payment is submitted to your writer to download your paper. If you are not satisfied, you can either ask for reviews or request your payment delivered back to you.
Order Now to Get Professional Services
No need to get stressed about your literature reviews. Please place an order now and have it done perfectly as you concentrate on other aspects of your life.