35 History Research Paper Topics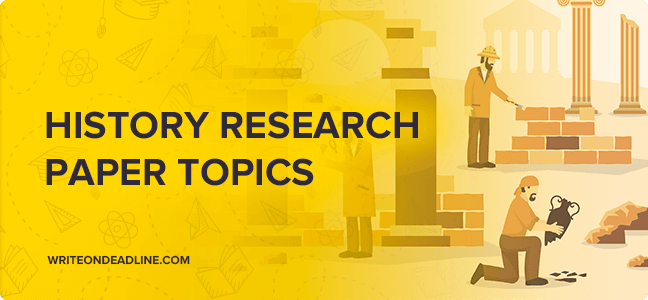 History can be defined as the study of the human past using written texts and graphical depictions. At schools, history is taught as a subject through the use of narratives to examine and analyze events in the past to determine the patterns that led up to them and better understand why something happened. At the end of your course, you will be required to deliver a history research paper that should meet all the lecturer's requirements. Writing an academic paper can be a very laborious task and should be taken seriously. Students writing history essays, term papers, thesis, dissertations, reports, or research papers need to understand what is expected of them before embarking on writing this type of paper.
Research papers are arguably the most common assignments students are asked to write, and thus the steps to submit a quality research paper is. They include carrying out research, choosing a suitable topic, formulation of a thesis statement, creating a paper outline for your content, writing your first draft, formatting the paper, providing up to date and factual citations for your research paper, and finally proofreading and editing where necessary to get a refined final draft.
However, the most important part of the writing process, which is often overlooked, is choosing your essay topic. Let's talk about the topic – the part of your essay that serves as your paper's subject. The fact that you need to select a topic for your research paper is apparent, yet most students do not take their time when choosing the topic. Selecting an appropriate paper topic is much more of a challenge than you think.
Subscribe to our email newsletter with promotions and discounts.
×
Thank you!
Your email is successfully submited. Check your inbox for future updates.