Complete Guide on How to Write a Classification Essay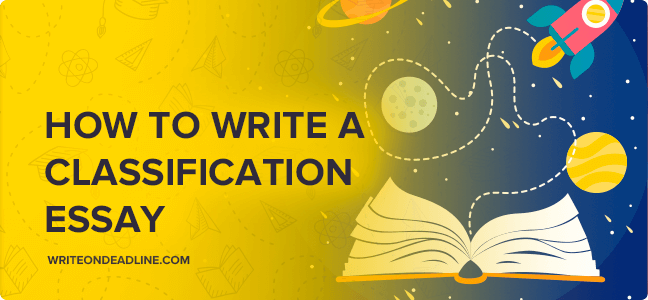 There are different components that you need to understand before embarking on the writing process. Some of the things to keep in mind include the starting process, the structure, outline to follow, and how to end your essay. Writing a classification essay entails sorting different items to fall under different groups, create a principle for the categorization, and offer examples that suitably falls under a category. Essentially, the student is supposed to organize all items under their specific categories. Depending on the formatting method, the paper should follow a classification approach.
What Is a Classification Essay? Get Both Definition and Application
Before even embarking on writing your paper, you need to understand what a classification paper means. A classification essay derives meaning from the word "classify," which means grouping together items or objects according to their types, class, and categories. Thus, a classification essay is a write-up that presents grouped information on a given set of items following set criteria. Paragraphs usually discuss information for a specific category without mixing up. Having this classification essay definition in mind clarifies the expectations for the assignment. For instance, the student will adjust their mind to identify different objects under each category.
Identify Best Practices on How To Start a Classification Essay
Before starting the essay, a student is expected to observe prewriting steps. First, analyze the target audience. Understanding the target will eliminate all unnecessary details. Once the audience is established, the student should proceed and identify the topic for discussion. A topic should be interesting and one that covers diverse categories. Together with these two, the writer needs to identify a thesis to guide their writing. Finally, collect all the relevant information and subdivide it into appropriate categories.
Understanding How to Write a Good Classification Essay
Most students will ask for ways they can earn good grades. However, the secret lies in knowing the simplest but most effective ways of writing the paper. In the case of classification essays, the writers need to understand the most optimal approaches for creating categories and deducing their examples. Writing a great classification essay entails following a procedure. All attention should lie on finding categories and their examples, and the relevant explanations. Follow this process:
Define categories. Thoroughly come up with all the categories possible as a mechanism to capture all the objects. However, ensure that the categories are logical. Desist from too many categories that may blur the entire paper.
Sort according to a defined principle. After identifying the categories, define one principle that you will use in creating the groups. A student should cease from creating new principles once another is already in use.
Provide supporting examples for each category. Have a general quantity of examples to use under each classification.
Following this process will guarantee a well-organized and comprehensive paper. Strive to confine to the topic when identifying your examples.
Tips For Writing a Classification Essay: Following Expert Advice
Besides writing a paper, a student will always need key information to give them an upper hand in their assignment. Follow through for classification essay tips on how to best prepare and write a classification paper.
The most important thing is defining the categories you are going to use. Using a draft, make a list of all the key characteristics and go through each of them individually.
Write down all relevant examples that fit in each category. Source examples to use in each of the categories you have identified and have as many examples as possible. Finally, ensure each category has an equal number of examples.
Apply the contrast and comparison approach in identifying differences and similarities for each of the categories in your draft. Ensure no redundancy in the examples.
Pre-write your paper following these classification essay guidelines before choosing a topic. A great topic will sustain your ideas and enhance the quality of your paper. Further, having these tips ensures that the student knows the best methods for creating categories and their examples. Always devote enough time to the category creation section since it determines the quality of the examples you provide and directs the rest of the paper.
---
Read more: 101 Amazing Classification Essay Topic Ideas
---
Planning How to Structure A Classification Essay
One of the most crucial components in writing a classification essay is understanding the structure. As you strive to present a blank paper with exhaustive categories, you should also understand the application structure. In some instances, the institution provides an appropriate structure for essays and is a prerequisite for all papers. However, when none is provided, the widely used format is one that follows the introduction, body text, and conclusion.
Follow This Procedure on How to End A Classification Essay
Your paper should always speak to the reader and leave a memorable experience. In most instances, the writer ought to incorporate creative ways of examining the rest of the paper without one having to read the entire assignment. Being an expert means giving the reader a reason to check out the rest of the paper by simply prosing the conclusion. Ending a classification entails pulling together all the categories discussed under the body section. It can summarize each category and finally recommend in favor of one category over the others. You should, however, provide a rationale for your choice.
Effective Classification Essay Outline
An outline is crucially important in classification essays as it provides the framework to follow for the entire paper. Having a comprehensive outline eliminates redundancy and enhances the clarity of categories.
Introduction
Body
Conclusion
Each section has a role. An introduction should tell what will be categorized. The body provides categories and their examples, while the conclusion provides a summary of the categories.
Effective Ways of Planning a Classification Essay Structure
Classification essays entail sorting out items into categories based on their classifications. The structure of a classification essay should include categories, items, and their explanations.
Introduction
Category I with examples
Category II with examples
Category III with examples
Conclusion
In every paragraph, there should be a major category and examples under the category.
How to Write a Classification Essay Introduction
The introduction of a classification essay should identify the subject and explain the contents to categorize it. It should also provide the reader with a glimpse into the essay without having to provide details. As a good practice, it should capture the purpose of the paper and a thesis statement.
How to Build Ideas in the Classification Essay Body
The body comprises of paragraphs. Each paragraph should expand on one category with their examples. Explanations should be concise to avoid too much unnecessary information. As a good practice, include clear transitions between examples and between paragraphs. The curriculum allows this type of assignment to evaluate students' ability to organize data with a specific set of properties. These tasks usually appear to be scary for beginners, but once you understand the basics, you will come to appreciate its significance.
Subscribe to our email newsletter with promotions and discounts.
×
Thank you!
Your email is successfully submited. Check your inbox for future updates.