How to Write a Critical Analysis Essay: Tips for Students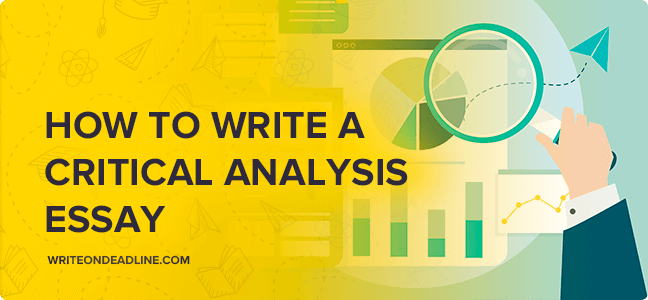 There are different types of essays. More often than not, students are given writing assignments to test their ability to properly write academic papers and develop their writing skills. One such essay is a critical analysis essay. Again, when students are writing this kind of essay, they commonly make the mistake of dwelling solely on the negative features of the discussion topic. This is mainly due to a misunderstanding conveyed by the word criticism, which many students condemn. However, there is more to it. A critical essay denotes an examination that recognizes both positive and negative features of the topic being analyzed. As a student, no matter the subject you specialize in, understanding and knowing how to write an essay will give you an edge during your studies in college and career. This is because it will allow you to develop problem-solving and critical thinking skills like technical analysis, research skills, focused reading, editing and proofreading, and academic writing skills. If you find mastering these skills too difficult, you can easily get help from professional customized writing services to enable you to submit quality academic papers within your deadline.
What Is a Critical Analysis Essay?
You cannot write an authoritative paper if you have not understood what the paper requires of you. A critical essay is a detailed examination of a specific issue. It could be a scene in a movie, a text in a book or journal, or a picture. It is an exceptional method of gauging the students' application of their analytical and critical thinking skills. The examination done should be based on reliable evidence extracted from trustworthy sources. You should support your negative and positive perspectives about a selected subject by providing concrete facts. If you are a student who lacks the time or knowledge to write a critical paper, consider using the services of skillful writers online and learn more about essay definitions.
How to Start a Critical Analysis Essay: Easy Steps to Follow
A critical analysis writing begins with reading. Simply put, you have to read first before you write. For instance, if you want to analyze a magazine, poem, novel, or a play, you need to start by reading it prudently. Take advantage of using notebooks or stickers to make short notes. Focus on your essay's chosen topic and note the crucial sections of the book. Once you've read and marked the book, formulate a captivating title to assist you to concentrate on your ideas. This will give your audience a vivid vision of the paper's evaluation. Make sure that you adhere to all the instructions given by your course tutor to attain good grades. You can also get interesting topics and essay questions by consulting expert writing services.
How to Write a Good Critical Analysis Essay?
The core objective of analyzing someone's piece of work—an essay, a book, a movie, etc. is to intensify a reader's perspective of the work. To write a good critical analysis paper, you have to do two things; critical reading and writing. The reading entails: ascertaining the author's theory, pinpointing the key ideas by scrutinizing the structure, and referring to an encyclopedia or dictionary for the information you don't understand. The critical writing entails: creating a simple outline to guide you, summarizing your paper, and writing with a purpose. The purpose can be to persuade emotions, entertain, or inform using facts. If you want to learn how to write a good essay, check out quality writing services by specialists to help you improve your writing skills.
Tips for Writing a Critical Analysis Essay
Writing a critical essay can be easy if you understand the purpose of the paper. The writing process will depend on the type of work that you are analyzing. Let take the example of a book. Firstly, you need to read. Skim the entire text and generate a general thesis, structure, and approach. This will make you understand how the different features link when you begin reading intensely. Secondly, take the time to read critically so that you can challenge the author's arguments. Observe the paper's structure keenly, the facts, and other details for inference. Finally, scrutinize all the text's essentials to get a good point of departure for your analysis. Do you want more critical analysis essay tips? You can get them from online writing service providers with the expertise to write for your according to your specifications.
---
Read more: 75 Critical Analysis Essay Topic Ideas
---
How to Structure a Critical Analysis Essay?
A good critical analysis structure makes your work neat. To work, even before you start writing, you need to have a clear picture of what you want to write about. You can do begin by creating a simple outline to guide you. If your structure is spot-on, you will save time writing, and your ideas will be consistent throughout the essay. Start with giving your reader some background information to set the context. Then, give your thesis statement and provide a summary of your understanding. After that, present your evaluation and then write your conclusion by reaffirming the thesis statement. You can comfortably learn how to structure an essay and other academic papers by using online professional writers' services.
How to End a Critical Analysis Essay?
The final part of your critical essay is the conclusion. It is as fundamental as the introduction of your paper because you also need to end strongly. Summarize your key points and then reiterate your thesis to elucidate your viewpoint. Ensure that you don't include new facts that you have not examined in the paper's body. Since you set out to prove a point, compose a perfect ending. Your audience has to feel that the point has been proven. You have to make it outstanding. For more hints on ending your analysis essay, you can seek assistance from well-qualified academic writers.
Clear Guideline for Students: Critical Analysis Essay Outline
An outline is basically a roadmap to guide you on how to organize your essay. It also helps when you forget some concepts because you will always have something to refer to. Like other essays, a critical analysis paper has an introduction, a body, and a conclusion.
Introduction: This is the first familiarity stage of the reader to the subject. It has to grab the reader's attention and influence them to read the paper to the end.
Body: This part entails writing several paragraphs. It is the longest section of your essay as it provides relevant proofs for your core arguments. It has to be well-structured, and one paragraph must flow effortlessly to the next paragraph.
Conclusion: This is the last part of your analysis essay. It is brief and precise as it echoes your thesis. Give a lasting impression at the end.
How to Create Critical Analysis Essay Structure?
Regardless of what kind of essay you are writing, it must be clear, well-formatted, and logically crafted. The purpose is to present your thoughts about a particular text. Don't focus just on the negative points. Highlight the positive aspects as you critique the negative ones. Have a look at this sample structure:
Context information

Work, i.e., Topic, writer, and objective
Thesis statement specifying your perspective about the text

Narrative summarizing the studied work
Interpretation of the text

The structure
The style
The efficiency of the text
Arguments on how the work is appealing
Get more critical analysis essay guidelines by accessing expert online writing services.
How to Begin a Critical Analysis Essay Introduction?
This is the point of departure for your essay. It has to be clear, precise, and concise. Most importantly, it has to be so captivating to grab the reader's attention to the end. Begin with a 'hook' to involve the readers. Your first impression at this stage will determine whether your essay will be read to the final part.  Make it so irresistible that the reader will desire to continue reading it. Provide the writer's thesis and underscore important ideas. Then, give your own thesis statement, which will steadily lead the audience into a debate. If you have no idea on how to write your essay introduction, seek help from skillful writers.
How to Craft Your Critical Analysis Essay Body?
The body of an analysis essay consists of two or more paragraphs. Each paragraph should represent a single concept and answer the first questions mentioned in the introduction part. The paragraphs should also offer sufficient evidence to pivot the concepts with appropriate illustrations. It is usually the bulkiest section of your essay that details how you're the facts support your thesis statement.  Always remember to use transitional words in the sentences forming the paragraphs to make your work coherent. If this becomes difficult for you, get expert help from qualified writing services that offer essay guidelines. Such services are time-saving, affordable, and accessible across numerous parts of the world.
Subscribe to our email newsletter with promotions and discounts.
×
Thank you!
Your email is successfully submited. Check your inbox for future updates.