How to Write a College Application Essay Step By Step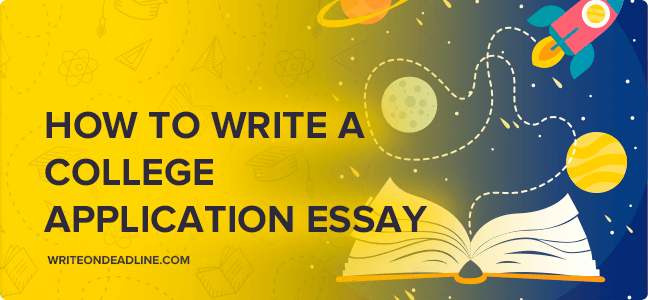 To begin with, understand that your college application essay should reflect your genuine reasons for applying for your program of choice. The selection committee in the prospective college is looking for a context in which you are applying. They want to know that you are really interested in the program. It serves as a surety for them that you are the right candidate for selection. Given a chance, you will do your best to complete the program successfully. Therefore, draw a connection between your program choice and your skills, capabilities, life experiences, and hobbies. Tell them this is the right program for you based on the kind of person you are and your aspirations.
First Things First; What Is a College Application Essay?
A college application essay is the colleges' written statement from the prospective students applying for admission. It is also called a 'statement of purpose' or a 'personal statement.' This document provides the applicants with an opportunity to explain their reasons for applying for a particular program or course. Nicely written college application essays play a pivotal role in getting the applicants selected for their chosen programs.
Learn How to Write a Good College Application Essay Here
A good college application essay speaks to the selection committee on your behalf. It is a document that captures the most important details of your life relevant to your application. In order to effectively convey your points, you need an appropriate structure. The points should be a combination of the right set of life experiences, aspirations, goals, and hobbies. Your essay should convey what you want to become in life, why you want to get there, and how your program of choice will help you achieve that.
How to Start a College Application Essay with a Spark
Good start of a college application essay is extremely important. It sets an impression on the reader, so make a special effort to make it interesting. These are some tips for a promising start:
Start with a question.
Insert a bold statement in the start.
Include an interesting quote.
Share an experience so that the reader is placed in the middle of a situation.
Speak directly to the reader.
How to Structure a College Application Essay Meaningfully
The structure of a college application essay is very important. Right structure can make the argument flow smoothly and instill meaning and sense in writing. Typically, make your essay five paragraphs long. The first paragraph is the introduction, in the middle are the three body paragraphs, and conclusion comes in the last. If the college specifies a definite word limit for the essay, write just as many words. If it gives a range, it is best to write as much so that the total number of words count to the middle of the range. For example, if you are asked to produce an essay 800 to 1000 words long, try reaching the word limit of 900.
The College Application Essay Introduction that Grabs Attention!
The introduction is of paramount importance in making your essay full-of-life. In one paragraph, tell the reader how you reached the decision to apply for the program of your choice in this particular college. Start with a situation or a life experience. A short story would serve the purpose best. Write something like, "I was 10 years old when…" or a direct speech like, " These people are angels" was my inner voice as the doctor and nurses conducted the surgery of my grandfather." Statements like these immediately put the reader in the middle of a situation.
Essentials of a College Application Essay Body
The body of your essay is what will convey the whole rationale to the selection committee. So it better be structured properly. A logical college application essay structure should be chronological concerning the timeline of the various events and experiences that you share; it should contain connecting phrases, ideas, and sentences between the successive paragraphs. Also, each paragraph should have a unique theme or idea with all sentences therein complying with it. It does not make sense to share an experience from your childhood, followed by one from your adulthood, and then back to another from the childhood, unless there is a unique concept that genuinely requires such a haphazard sharing of events. Write a topic sentence for each paragraph that reflects everything that the successive lines in the very paragraph elaborate on. Base all your content on a nice blend of your innate abilities and tendencies, unique life experiences, and education.
Rely on Us for a Convincing College Application Essay
You will be able to write a nice college application essay if you properly follow the guidelines above. However, it may be the case that you are too busy to write a good essay yourself. You might have too many assignments to complete or have an exam coming up to prepare for. If that's the case, you have the option of buying a college application essay from us. One of our professional essay writers will immediately take on the task and deliver you your piece within your deadline. Place an order now!
Subscribe to our email newsletter with promotions and discounts.
×
Thank you!
Your email is successfully submited. Check your inbox for future updates.