Effective Guidelines on How to Write a Narrative Essay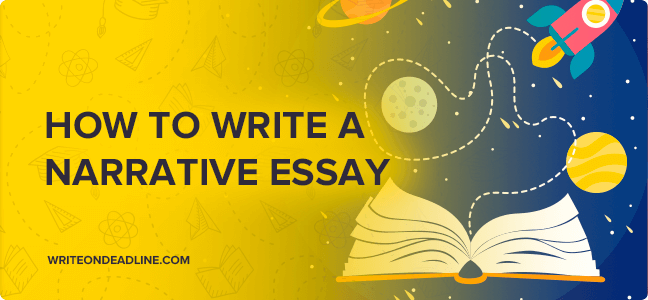 Narrative essays are written in college or high school in most cases, and most of the students do not find them interesting to work on. However, they are a crucial task that helps students develop outstanding writing skills and abilities to express yourself in your future career.
Writing a narrative essay should be a reasonably simple task considering you are writing about your personal experience. However, you need a lot of creativity to make your narrative interesting. For example, you should carefully choose how to articulate your words so that you can keep the reader glued to your essay. Our experts have prepared even more useful pieces of advice for you, so read on.
What Is Narrative Essay? A Brief Introduction
A narrative essay is a type of document with a central point that relies on the author's point of view. That is, it is centered around personal opinions, experiences, or happenings. What makes it different from other types of essays is that you must clearly show conversations and develop various characters and events that take place.
A narrative essay allows you to show your creativity level when expressing your point of view to the reader. When writing a narrative based on yourself, you might relate the experience to storytelling, but it is more of an anecdotal and personal experience.
Tips on How to Write A Good Narrative
When writing an excellent essay, there are several things that you should consider. They include:
Make sure you organize your thoughts before you start writing. Structuring your narrative allows you to have a good flow of ideas when you begin writing. This is important because you will only be writing in the first person throughout the text.
The essay must have all parts of a story.
A story should have a clear introduction, plot, characters, setting, climax, and conclusion. When you observe all the elements mentioned above, you will be able to deliver a quality narrative effortlessly. Also, you should remember that the essay should be centered around you.
Avoid overcomplicated storylines
The reader of your narrative is likely to be turned away if the essay is too complicated. Therefore, you should make your story easy to read and understand.
Use comprehensible and concise language.
An essay is compelling only if the reader can read and understand your objective for writing it. Therefore, you should make sure you choose your words carefully and use a proper tone throughout your narrative to evoke certain emotional responses from the reader.
Guidelines on How to Start a Narrative Essay
Most readers lose interest as soon as they begin reading poorly thought out the text. Therefore, you should take the time to plan your essay structure and the topics for each section. Here are a few useful guidelines to help you start a narrative essay:
The title you select will determine whether your audience will be interested in reading your narrative or not. Always be creative when forming your unique narrative topic; it should capture the reader's attention before they read the first line of your essay. A sure way to develop a good title for your article is to have clear goals and motives for writing your narrative essay.
Make a point to always treat the narrative as the central idea of your essay. It should have clear objectives as to why you want to write the story.
Structure and schedule your work
Structuring your narrative helps you meet all the requirements and also provided a clear outline of the completed story. The structure also identifies where each section and idea will be placed for maximum effect. When you plan and schedule to finish certain parts of your narrative by a certain time, you will be able to meet the deadline and deliver a quality narrative.
---
Read more: 75 Narrative Essay Topic Ideas
---
How to Structure A Narrative Essay Easily
Creating an outline makes it easier on how you will go about the entire process. A common problem that arises when forming the narrative essay structure is how to understand certain sections and where specific information should be added. It also enables you to arrange your opinions and ideas in an orderly and organized format. A typical narrative essay format would have the following structure:
Introduction
Body
Conclusion
Make Your Narrative Essay Introduction Paragraph Interesting
Just like the way you would want to have a nice line when you want a conversation to continue is the same way you need a good introduction to your essay. This is where you need to begin with a hook statement, such as a quote or a question that will make the reader wonder what the story entails. Also, explain briefly what the story is about by giving some background information.
Avoid giving too many details, which will make the reader know what path the story is going to take. The brief background should leave the reader hanging and yearning to know more. You can also show the connection of the story to the reader, and by doing this, you have invited the reader to become part of your account.
What to Include in a Narrative Essay Body
Set the scene by writing the background of events that may have occurred. This will help in making your audience understand where the story may have begun. Also, introduce the characters of your account at this point to help the reader understand who is involved in your story. Continue explaining your story mincing your words to avoid getting to the climax.
Take the reader slowly on the events that occurred step by step. Taking them through the narrative gradually will keep the audience more glued to your story since they do not want to miss any information or detail. Make sure it is not boring in a way that the reader will choose to read the ending of the story.
You can do this when structuring your paragraphs. Also, support your account with something that the reader can relate to. A proper way of doing this is by using transitional phrases to connect ideas with one another.
How to Form Your Narrative Essay Conclusion
As you have already told the story in your narrative body, you can now finish the paper's central theme in the conclusion section. Also, ensure that the story is logical and relevant by providing the reader with the moral of the story and how it applies to the reader's day to day life.
Most find essay writing difficult and taking too much of their time researching how to go about it. For instance, some also do not know what narrative pieces entail or a narrative essay. If you are stuck with writing one too, it is always advisable to look for help so that you don't submit an irrelevant piece. For such assistance, you can go online for tips on how to write your narrative assignment. Alternatively, you can seek professional writing help.
Reference
https://owl.purdue.edu/owl/general_writing/academic_writing/essay_writing/narrative_essays.html
https://study.com/academy/lesson/narrative-essay-definition-examples-characteristics.html
We have a team of professional academic essay writers who are proficient in essay writing in all disciplines. If you want to get good grades, contact us, we have skilled narrative essay writers who are always available at any given time of day or night and will deliver an outstanding essay. Place your order now!
Subscribe to our email newsletter with promotions and discounts.
×
Thank you!
Your email is successfully submited. Check your inbox for future updates.