A Complete Guide on How to Write a 5 Paragraph Essay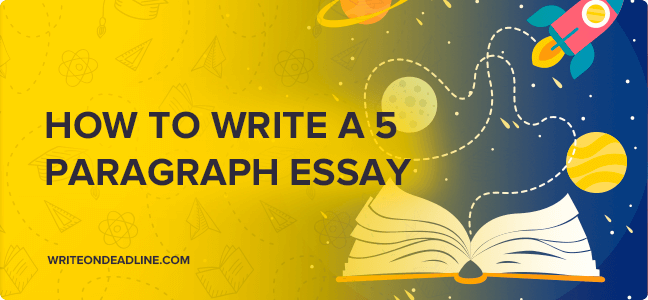 Let's face it; you don't get this assignment every day, but writing 5 paragraph essays is one of the most challenging academic writing assignments you get in college. Whether it's a TOEFL or an IELTS test, or even any other form of theoretical analysis, the 5 paragraph essay evaluates whether you can come up with a clear introduction, three paragraphs of well-written ideas in the body, and a conclusion to sum it up.
Everything You Need to Know: What is a 5 Paragraph Essay?
In simple terms, a 5 paragraph essay is the price of an academic question requiring a response to a particular item or text. These are found mostly in college in academic papers, although rare to professional writing. Consisting of five paragraphs, you should ensure you create a precise but still a descriptive work that will convey your thoughts in an easy to understand and exciting way.
Essential Pointers on How to Write a Good 5 Paragraph Essay
The key to writing a great paper is to check the number of paragraphs in your body. They should be three and an introduction and a conclusion. More paragraphs will spoil the outline and go against the required number that makes it an essay of its kind.
Easy Steps on How to Start a 5 Paragraph Essay
To get a smooth start, you can develop a plan to follow throughout the essay, making it easy to write without repetition and creating a fluid composition that is easy to read.
You should not forget to countercheck your time required to write it and allocate enough time to proofread and edit the same. You will avoid simple mistakes, such as conflicting information that could cost you a good score.
Vital Tips on How to Structure a 5 Paragraph Essay
Apart from the introduction, body, and conclusion, your essay should follow the guidelines provided at the beginning of the test. To structure your essay well, the instructions provided should be checked, consulting your tutor about what should be followed and what to avoid too.
Below are more tips you can consider on 5 paragraph essay structure to help you get a better picture of it:
Use a paragraph hook in your conclusion. This might be a question, a mystery factor, a strange, unexpected piece of information that will leave your readers thrilled.
Make use of a dictionary to write with the best vocabulary and look like a professional writer.
Prepare a guideline and be sure to stick to the five paragraphs – this is an essential aspect of the entire essay. You should make necessary changes after completion to ensure you don't get it wrong.
Use an only firm, easy to understand yet powerful arguments with scientifically proven facts to emphasize your opinion.
Be creative and unique by looking for uncommon ideas but still in line with the guidelines and the plan you develop to follow throughout the paper.
Make sure you don't have any unnecessary spelling mistakes, typos, grammar issues, and that your essay is well written and easy to read.
Try to refrain from using unnecessary information that could make your essay boring and seem difficult to understand.
Plan your time well to have enough to check your essay and make all the corrections you need. You should ensure that you have time to write what you think is necessary, what you forgot to mention, and anything else you can use to make your work better. Ideas that don't agree with your posts or are weak are also better off done away with.
Writing a Compelling 5 Paragraph Essay Introduction
Your introduction should take between three to five sentences. At this point, you should ensure to communicate your essay argument, though in general terms.
You should also catch the reader's attention by giving a glimpse of what you will cover in the body. This part is very important as it sets the phase of your work.
What to Include in a Winning 5 Paragraph Essay Body
In the central part of the work, filling it with the arguments that support your views is the best idea. To do this, a proper arrangement of ideas, as well as evaluation, is necessary.
Organize your material properly and place the most crucial points appropriately. Also, go through your introduction and make sure it agrees with the arguments. Otherwise, you might want to change your body to align with the facts you mentioned earlier.
Another great idea is to use examples to justify your answer or point of view. It works well when you fail to give a proper explanation and comes in handy as a way out when you feel getting stuck.
You should also use strong resources such as books, personal experiences, and historical events to back up your thoughts, as this is an important factor in any form of an academic essay.
Having a Hard Time Writing a Good Essay?
Are you still finding it difficult to create a great piece? We can provide you with a well written and professionally edited paper in no time! Our professional academic essay writers would be happy to help, and you can share the writing instructions to get them started. You can also communicate with them, making it easier to get your essay tailored to your exact needs. Order an essay now!
Subscribe to our email newsletter with promotions and discounts.
×
Thank you!
Your email is successfully submited. Check your inbox for future updates.