Full Guide on How to Write a Descriptive Essay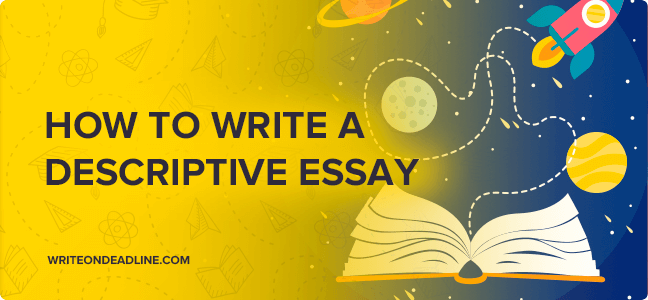 "The sky is blue while the snow is white." "Jane is beautiful and kind while Mike is funny and smart." Those are all the descriptions of specific objects or people. We often describe things in our lives, intentionally or unintentionally. To make our descriptions more accurate, our school teachers often assign such tasks as descriptive essay writing.
Such a type of essay is mostly made of adjectives and adverbs, and it is a more creative kind of assignment. Below, you can find everything necessary for this type of paper. Let us start with a descriptive essay definition.
What Is a Descriptive Essay? Definition and Goals
A descriptive paper is the one that students may be asked to compose about a specific place, person, event, or object. A good example could be describing a place in the woods or favorite school teacher. The main idea is to show how well a student can express their thoughts, feelings, and emotions and explain things to others with the help of words. One has to create illustrations with the help of words only during the writing process.
Description goes hand in hand with narration. That is why we can say that a descriptive essay is part of narrative writing. Thus, it trains your narrator skills, as well. We hope that the descriptive essay tips below will help you to understand this sort of writing better.
How to Start a Descriptive Essay in Original Way
If you want to catch the reader's eye, you should not go directly to the topic definition or background information in the opening paragraph. Involve a hook to begin your paper originally. It could be an interesting fact like, "Did you know that more than 70% of internet users today use Facebook?" It could be a rhetorical question, "Should not people be responsible for their actions, in particular, those associated with the climate change?" You can cite your favorite author (e.g., "I became insane, with long intervals of horrible sanity" by Edgar Allan Poe), public figure, or a poem. You can recall a joke or anecdote.
On the whole, there are many ways to stand out when starting your descriptive essay. It should somehow serve as a bridge to the topic introduction and thesis statement.
How to Write a Good Descriptive Essay: Sources for Inspiration
To write a good essay, one has to take some pre-writing stages. First of all, it is all about choosing a good topic. You should better pick a topic for descriptive writing that you can describe with metaphors, similes, allegories, contrast, and other literary devices. After all, in most cases, a descriptive essay is an English composition and literature class assignment. Put yourself in the shoes of your favorite authors and think about something interesting to describe. Here are the sources of inspiration for you:
Books and textbooks
Newspapers
Magazines
Journals
Scholarly articles
Reviews
Social networks
News
Websites
Interviews
Surveys and polls
Put down the most capturing headings that you meet while searching for the best idea. Brainstorm later to pick the best one. Remember that most of the teachers prefer conventional sources, meaning you should not rely on those that are older than five years.
---
Read more: 50 Descriptive Essay Topic Ideas
---
How to Structure a Descriptive Essay: Overall Template
Even though a descriptive essay is more creative, it should still follow the generally accepted academic essays structure. Students should start with an introduction which starts with a hook and encloses with a thesis statement.
The next stage is to create body paragraphs. Three body paragraphs are recommended. To show the connection between them, writers should use so-called transition words (e.g., "on the other hand," "moreover," "second," "after all," "to compare," etc.)
After the three paragraphs with three different arguments to support a thesis, a conclusion should follow. A student may also need to create a page with references to the external sources if he or she cited them or used any information shared by other authors.
Should Descriptive Essay Structure Correspond to the Format?
Right, a student should structure the paper concerning the chosen or recommended format. The simplest one is MLA proposed by the Modern Language Association. When writing descriptive papers, you will most often face this writing style. It does not require special efforts like separate title pages, but your work should still look accurate and well-organized.
Use Times New Roman 12 pt. to write your descriptive papers. Do not forget to number the pages and provide the title of your work on each. You can find more information about how to cite and reference sources in the latest edition of the MLA Writing Manual, which is 8.
Learn to Craft a Descriptive Essay Outline
An outline is usually the same as the overall structure, but it also involves each section's name. It is critical to organize your work in a way that makes sense to your readers. The best idea is to type your paragraphs chronologically and start with more general ideas, narrowing them down later.
Experts recommend creating body paragraphs first and then building a strong thesis statement based on them. A writer needs to come up with a list of sensory details. It is required to support the main argument. Here are some of the literary devices that might be helpful:
Similes
Adjectives that describe things
Metaphors
Analogies
Allegories
Personification
Hyperboles
How to Construct a Catchy Descriptive Essay Introduction
We have already discussed how you can grab the reader's attention from the first few lines with the help of various hook sentences. Then, present the topic or issue you plan to cover. Explain how the solution or explanation can contribute to the community. For example, admit that the story when you've learned the most valuable life lesson (e.g., the importance of being kind) can be useful for other people and can help society become better. After that, create a thesis statement that would be the main idea of the entire paper.
Find out How to Write a Descriptive Essay Body
The body should always start with some kind of a transition word as well as the argument. That would be your topic sentence that has to relate to the thesis. Each body should contain some evidence to support your words. You can insert citations from various trustworthy sources. Also, descriptive writing is all about sharing examples to illustrate the picture, so add as many of them as possible.
How a Descriptive Essay Conclusion Should Look Like
In your conclusion, you should start with a restated thesis statement just to remind the reader what you were talking about and why the essay was written. Stress the significance of your findings or story that you shared and sum up the topic sentences. However, you should try to end up an essay in a way that a reader will stay impressed.
Expert Help
If these descriptive essay guidelines are not enough for you, keep in mind that you can always count on professional essay writing services. Except for the valuable tips, we can offer help with your descriptive essay. Our professionals can write papers from scratch for you. Our rates are affordable, and our team works 24/7/365. Do not miss your chance to improve your grades – buy essay papers from us!
Subscribe to our email newsletter with promotions and discounts.
×
Thank you!
Your email is successfully submited. Check your inbox for future updates.