How to Write a Persuasive Essay: Complete Guide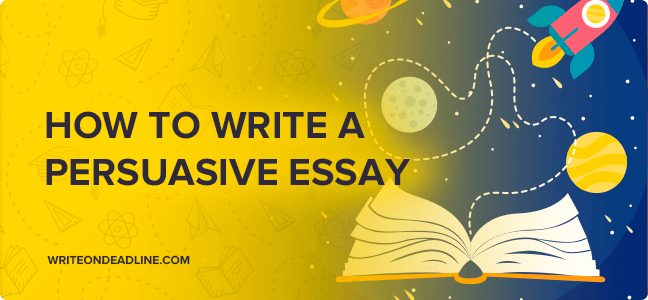 Writing a persuasive essay involves a lot of preparation.  Before you embark on writing the essay, one should first understand what a persuasive essay is then to brainstorm on the topic.  Read through the given instructions carefully to guide you on what is required of you.  From the instructions, you will be able to know the targeted group to have the correct choice of words in terms of vocabulary and the knowledge they already have about the topic. Research on the topic and ensure you only use reliable sources in your writing. If you are on a tight schedule, don't worry because online help is here for you. Get on the internet and choose the most legitimate essay writing service to help you complete your assignment on time. Students who have time to write for themselves can look for persuasive essay samples to guide them in writing.
Get instant information On What Is a Persuasive Essay
A persuasive essay is a form of academic writing that attempts to convince the reader or audience that certain ideas or points of view are more valid than others by demonstrating using reason and logic and factual evidence. These kinds of essays require knowledge on the topic or issue in question to arrive at a valid conclusion or point of view. The topics come in different versions here are few examples:
Junk meals should be banned at school.
Elementary school students must be given homework.
Spending money won in a lottery.
All teachers should pass professional tests.
Effectiveness of e-learning
The high school system should be reformed.
Pros and cons of GMO
States should focus on local terrorism and not international terrorism.
Gun ownership should be curtailed.
Listening to music can help you do your homework faster.
Honesty is key to a perfect life.
The current taxation system is unfavorable.
Get Instant Details on How to Start a Persuasive Essay
Starting a persuasive essay does not involve simply starting to write but thinking of what will be written. Since persuasive essays fully rely on reason and logic, one needs to take time in considering the topic or issue at hand and pick a valid point of view. It is necessary to bring out the reasons why that particular point of view is valid without concluding based on assumptions. Facts are a key factor hence the need to start by brainstorming on the issue, including things are contrary to the point of view chosen to ensure no stone is left unturned. On getting the required information and noting down several factors, it is now time to start writing the essay following a persuasive essay's required structure.
How to Write a Good Persuasive Essay?
Persuasive essays may pose a challenge when it comes to quality due to several things. It is thus normal for one to go to great lengths to improve the quality of their essay. To write a good persuasive essay, it is necessary to have prewriting activities then create the first draft following the essay outline. Once you are done with the first draft, edit to ensure all instructions are captured, proofread them to remove grammatical errors. It's now time to write the final copy of the essay for submission. It sounds simple, but if you lack the skills, don't dare write the article, let the experts do it for you
---
Read more: 75 Persuasive Essay Topic Ideas
---
Topnotch Tips for Writing a Persuasive Essay
There are several things one should do to ensure the essay is good. At the prewriting stage, one should ensure extensive research is carried out:
Know the audience
Chose a point of view
Identify the most convincing evidence to use in the essay.
When writing, one should:
Ensure the thesis statement is definite and the introductory paragraph is catchy.
Ensure each paragraph should equally bear a separate point or idea well-argued out convincingly.
Ensure the arguments used are a variety; for instance, one should not stick to comparison only is arguments.
When revising the essay, one should ensure:
the thesis statement is convincingly supported
the introduction is catchy
the sentence structure is varied
the concluding paragraph compels the reader to think (call to action)
Are you looking for Tips on How to End a Persuasive Essay
The ending of a persuasive essay should be interesting, just like the beginning. However, the ending must include several things. It must clearly state the writer's position or point of view and urge the reader or audience to think about the issue. It should equally restate the thesis as earlier stated in the introduction and further reinforce it.
Get a the Persuasive Essay Outline
The outline of a persuasive essay is as follows:
Introduction (3-5 sentences)
Paragraph 2 (5-8 sentences)
Paragraph 3 (5-8 sentences)
Paragraph 4 (5-8 sentences)
Paragraph (5-8 sentences)
Paragraph 6 (5-8 sentences)
Conclusion (3-5 sentences)
How to Structure a Persuasive Essay
The structure of a persuasive essay is similar to that of other essays in academic writing. It comprises of three major parts that are distinct in structure but wholesome as a body of one essay. These are the introduction, body, and conclusion.
How to Write a Persuasive Essay Introduction
The introduction is the very first part of the essay. It clearly states the thesis or the statement of the problem in the essay. It gives information on what the essay is about and presents a point of view. The introduction should be catchy to get the attention of the reader. The first sentence of the introduction should have a hook should be catchy enough to get the reader's attention. The introduction should equally end with a transition to the next paragraph. This is to ensure there is a sense of continuity in the essay.
Get a Constructive Persuasive Essay Body Written From Scratch
The body is the largest part of the essay and should include the topic's major arguments in question or of the aforementioned thesis. It involves a number of paragraphs each with a different well-argued idea. Each paragraph should be structured as follows.
Topic sentence – this should present the main idea being discussed or argued in the paragraph.
Discussion – this is the argument in support of the idea mentioned in the topic sentence. It should include illustrations in terms of facts and logic being presented and argued out to support the paragraph's idea.
Conclusion – each paragraph has a conclusion that links it to the topic being written about and gives a transition.
Writing a Persuasive Essay Conclusion
This is the last part of the essay and is purposed to sum up, or end the essay. The best way to conclude an essay is to paraphrase the thesis or summarize the essay's key points. The conclusion must clearly show the writer's point of view and end in urging the reader to think, do something, or wonder. The end should be tied to the opening hook of the essay.
References
https://en.wikipedia.org/wiki/Persuasive_writing
https://learning.hccs.edu/faculty/jason.laviolette/persuasive-essay-outline
https://www.wikihow.com/Write-a-Persuasive-Essay
To get persuasive essay tips or essay writing tips or tips on any other academic writing, get online to our website, and get the help you need.  Many times you can come across assignments to writes essays you have no idea what type they are or what is expected of you. These services now give you a way out, do not attempt without checking out its definition. Simply type persuasive essay definition and get to understand what it means at our website. This and many other essay information is available for you. You can equally find persuasive essay guidelines as well as of any other academic writing in question at our website. It could be just like this one or a much more detailed one, as well as samples to help improve your writing skills. Never get stuck with your assignment, for we are here to help.
Fill an order form and order our expert persuasive essay writing services now. No regrets whatsoever!
Subscribe to our email newsletter with promotions and discounts.
×
Thank you!
Your email is successfully submited. Check your inbox for future updates.