How to Write a Reflective Essay: Expert Guide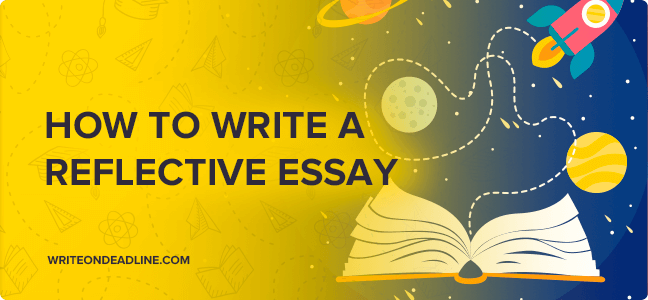 A reflective essay is one of the simplest forms of writing, but it still requires time and effort. An essay should be based on personal experience; it is not recommended to lie or speak about things that the writer did not actually face. One has to remain sincere to get the highest grade and the teacher's appreciation.
In this post, we will focus on writing this type of essay. From choosing a topic and crafting a thesis statement to developing an outline and ending your work, you will find everything in one place.
What Is a Reflective Essay? How to Define It Properly
To better understand what this paper is about, it is important to start from a reflective essay definition. Overall, this type of writing is akin to a diary entry with the main difference: other people will read it, so this piece should have a deal of coherence and good organization. It should not look messy, difficult to read. A reflective essay is a type of academic paper in which the author scrutinizes their experiences and knowledge of life.
How to Start a Reflective Essay in a Catchy Manner
It is critical to show the author's creative side and original approach to writing in reflective writing. Beginning such paper with introducing yourself or a description of the situation directly is not a good idea. It is better to grab attention somehow. The best way to stand out from the rest of the students is to start a paper with some kind of a hook:
Fact (share an interesting fact about yourself)
Joke (tell your favorite anecdote, but it should be brief)
Rhetorical question (make people think)
Quotation (grab one from your favorite poem or cite your favorite celebrity)
Literary device (try using metaphor, simile, allegory, etc.)
Your opening should be original and exciting. Put down all possible ideas on a sheet of paper and pick the best ones.
How to Write a Good Reflective Essay
For a successful paper, you will need several elements. First of all, you will have to decide on a topic and thesis statement. A topic for your reflective paper should be somehow related to something that you've experienced in your life. Do not speak about other people unless their stories relate to you. The idea is to share a valuable life lesson that you have learned with your readers.
A thesis statement should stress the importance of what you are writing about. For instance, if you want to show that divorcement is sometimes necessary, you may state something like, "From one side, a divorcement makes many people suffer, but, on the other side, it may be a necessary step before people start hating each other." In the rest of such paper, an author may describe the divorcement of his or her parents or personal divorcement and explain the positive consequences of it. As most authors usually discuss the negative aspects, a different approach will be fresh and original.
The good thing about reflective writing is that you do not need to do research. You may look up for free examples online to have an overall idea of what to discuss in your paper. However, it is all in your head – just choose a specific memory. Follow further reflective essay guidelines to learn how to write this paper step-by-step.
---
Read more: 50 Reflective Essay Topic Ideas
---
How to Structure a Reflective Essay: General Organization
No matter which type of essay you are writing, you should follow the generally accepted structure to make it well-organized. A reader should be able to follow the flow of thoughts. Any essay starts with an introduction. Then, the body follows. You will have to prepare a body of three paragraphs in most cases, but you can make more depending on how limited you are by the number of words or pages. The last element is the conclusion.
There are many supporting elements. Make sure to stick to the recommended structure, and keep in mind that it is best to start with writing your body. After that, simply summarize your conclusion's main thoughts and develop an introduction based on everything written before.
Reflective Essay Structure and Recommended Format
The structure and format are not really connected. What can be different is the presence of a title page and some extras. Most of the reflective papers are done in MLA. This writing style does not require any separate title pages. Students should use Times New Roman or Arial 12 pt. font. They should also include their last name and page number in the upper right corner on each page. On the whole, you may find all the necessary guidelines in the last edition of the manual offered by the Modern Language Association. In MLA, a page with references is called Works Cited, but, most probably, you won't need it in reflective writing.
In any case, to have a well-structured paper, you should follow the citation format guidelines. Now, we would like to share a specific sample of an outline with you.
Reflective Essay Outline Example
For better understanding, you should always view samples of papers and outlines. We want to present one of the possible outline examples to you:
Topic: My Favorite High School Teacher
"Do you know what makes a good teacher? Now I know for sure, thanks to Mr. Grey." – Hook sentence
Introduction (I will describe my favorite teacher)
Significance of the problem (To show the traits that a good teacher should possess)
Thesis statement (Having a good teacher is half the battle because your understanding of the problem depends on their responsiveness and explanation of the topic.)
Paragraph one: Mr. Grey is an expert in his subject (with examples from real life).
Paragraph two: Mr. Grey always cares about his students (with examples from real life).
Paragraph three: Mr. Grey is respected by his colleagues (with examples from real life).
Conclusion: Restated thesis, a summary of the main ideas, and the verdict (what makes a good teacher and why it is important to have one).
Develop an Attention-Grabbing Reflective Essay Introduction
Now, we will say a few words about each part. We have mentioned the supporting elements of every section of the reflective paper. An introduction alone has several of them:
Hook sentence
Topic introduction
A few words about an author (mini-bio)
Background information
Significance of the topic
Thesis statement
Work on a Reflective Essay Body
The primary goal of the rest of the paper is to defend or support a thesis statement. Thus, each paragraph of the body section should start with the so-called topic sentence (a.k.a. claim or argument) related to the central idea – thesis. As far as it is not a research paper, a writer should not necessarily prove any points with the help of credible evidence from sources like books, newspapers, websites, interviews, or else. It is enough to provide examples from personal life and experience and share valuable lessons.
It is critical to add some transition words to show the connection between all parts of an essay between all paragraphs. There are several types of transitions to keep in mind:
Additive transitions
Adversative transitions
Causal transitions
Sequential transitions
Do Not Forget about a Reflective Essay Conclusion
The last part of working on is a concluding paragraph. It simply summarizes the main points and offers some lessons. After that, if you use any external sources, you should provide a page with references, but it is rarely needed in reflective writing.
Help From Professionals
Sometimes, reflective essay tips are not enough to help you do your homework. If you feel no inspiration or run out of time, you should know that experts are always ready to assist you. Our online reflective essay writing service has more than 1,500 writers to carry out your tasks of any complexity level. Please fill out the order form and send it to us to let us get the best academic essay writer for you!
Subscribe to our email newsletter with promotions and discounts.
×
Thank you!
Your email is successfully submited. Check your inbox for future updates.