How to Write a Media Essay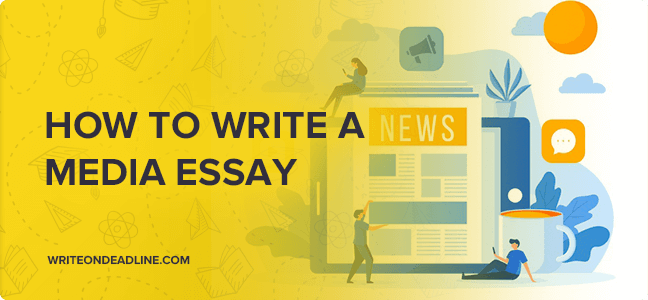 As a student undertaking any media studies, it is key to have apt language & communication skills. The reason is that most of your work will involve informing people about the following:
News
Events
Public releases
Advertisements, among other things
Therefore, you should be able to communicate as clearly as possible.
Poor writing skills would mean that your texts will be ineligible. This seriously hampers your academic performance. What's more, you will not be able to successfully practice your future career as a journalist, spokesperson, etc.
International students who speak English as a second language sometimes struggle with writing perfect English. Their papers are usually marred with numerous spelling errors, punctuation mistakes, and improper sentence formulations.
Other impediments include not being able to explain an issue or topic clearly. Sometimes, giving general information is not enough to make the audience understand the point you are putting across. You need to concisely state facts and give comprehensive clarifications to avoid any confusions and misinterpretations.
Some authors usually experience a difficult time generating ideas on what to write in their compositions. Most of the time, this situation arises due to the lack of a pre-writing procedure. Before commencing your media essay, it would be extremely helpful to create an outline. This eases the process.
What Is a Media Essay? The Proper Definition
A media write-up is any essay type that discusses a particular aspect of the media that plays a significant role in people's daily lives. This is the precise media essay definition. One common thing about all media papers is that their main intention is to inform or enlighten the audience on a given topic.
If you write articulately, you can hone your skills & even blossom into the following professionals:
Public speaker
Spokesperson
Company blogger
MC
Public relations manager
Also, you might become talented in many other professions related to journalism. Such professions are highly lucrative.
Quality Advice on How to Write a Good Media Essay
Before you even think about how you will write the composition, you need to have a topic in mind. In case of an assignment, your tutor might issue a topic to write about. However, if you are free to choose a topic, think about something within the media that intrigues you. For example, you can write about the impacts of social media on marketing.
Nevertheless, if you are unable to come up with a topic, research online for topic ideas. There are numerous companies that provide free essay topic examples in addition to media essay guidelines. Also, read the following pieces to get a clue on what to write:
Journals
Periodicals
Newspapers
Magazines
The above resources are arguably the best for getting ideas.
After identifying your topic, research more about it to get relevant content. Without proper research, you will not be able to discuss the main issues within your composition exhaustively. As such, you will not score high grades within that particular assignment or test.
Expert Tips for Writing a Media Essay
When issued an essay assignment/test, it is usually accompanied by a rubric or instructions to guide you. Within the rubric, you will likely find information about the topic, academic writing style, word count, structure, and other requirements. Pay keen attention to all of the guidelines. If you forget to observe some requirements, you might get penalized through a reduction of scores.
While conducting research, jot down the most crucial information in the form of shorthand notes. At the same time, take note of any material you utilized as a reference. This will help you during citation of your work. Failure to acknowledge the original creator of a given piece of information is tantamount to plagiarism. Such an act potentially leads to your expulsion from your degree program.
Media essays fall under various categories. These include persuasive, argumentative, narrative, or expository writing. Ensure that you are well versed in crafting various types of essays, and you can adapt each. For more media essay tips, visit our website. We have thousands of essay examples that you can download free of charge. Use them as a guide for your media essay or as templates. What's more, our experts will assist you with top-class tips on how to enhance your capability to write a nice piece. You can also get writing help in case you have an excessive academic workload.
How to Create a Quality Media Essay Outline
While drafting your outline, ensure that your group correlated points together. They should fall under one subtopic. What's more, arrange the points within your outline in a manner that will enable you to achieve a good flow of ideas. This will make you write a lot faster.
The Perfect Media Essay Structure
At times you might be instructed on how to structure your essay. In such cases, keenly go through the requirements so that you do not miss any details about the appropriate media essay format. Generally, any composition must have an introductory section, the main body, followed by the conclusion.
Guidance on How to Start a Media Essay
Sometimes, beginning an essay can prove to be the most difficult part of the homework. You might be lost for ideas on how to start. In other cases, you might not be confident in your ability to write a quality media essay. These are some major reasons why students fail in their papers.  However, with the right guidance and ample practice, anybody can become an expert in drafting media essays.
Go through your outline and fine-tune it so that all related points are in the same category or subtopic. Begin by clearly defining your media essay's purpose so that the readers can have a general expectation of what they are about to encounter within your paper.
Tips for Crafting a Media Essay Introduction
When introducing your media essay, it is important to grasp the reader's attention. You can do this by writing a witty remark, an anecdote, a proverb, etc. However, avoid clichéd openings. Next, inform the readers about your reason for composing the essay via a thesis statement. This sentence usually comprises a sentence or two.
The Secret for Crafting a Good Media Essay Body
This is whereby you discuss all the relevant details. Any argument should be separately discussed in a distinct paragraph. Moreover, one argument must logically transition into another. Lastly, all arguments should relate to your thesis statement.
Information on How to End a Media Essay
Ending your media essay involves a recap of all the information you have discussed. The reader should leave either with a lesson or increased awareness. If you are having problems in drafting this section, contact us for help.
Memorable Media Essay Conclusion
To make your essay conclusion remarkable, you need to remind the reader about your thesis statement. However, state it differently. In some cases, you can also give a general opinion about the matter.
Stuck with Your Media Essay? Order Your Essay Now
Never let any writing difficulty or excessive assignments prevent you from crafting great essays. We are here to help you out at any time. Our media essay writers have the requisite skills, experience, and speed to help write the best quality media essay on time.
Subscribe to our email newsletter with promotions and discounts.
×
Thank you!
Your email is successfully submited. Check your inbox for future updates.