75 Narrative Essay Topics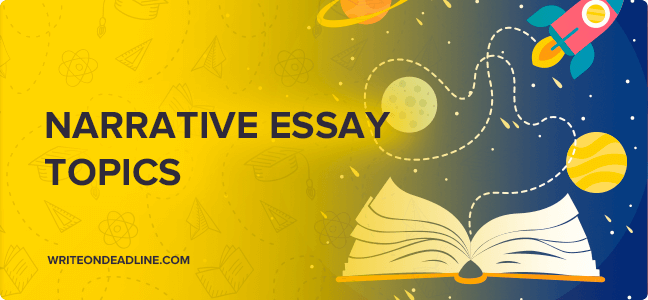 You may be searching for good topics for narrative essays. Probably you are preparing for your exams and want to brainstorm yourself on the possible topics, questions, and ideas. We've got together a list of 75 of the best topics related to narrative essays to facilitate you. In addition to them, you'll find 10 good questions as well as 5 great ideas for narrative essays. Try to build your plots around the suggested topics. We wish you the best of luck for your preparation.
How to Select the Best Narrative Essay Topic? – An Important Guide
Selecting the right topic is the first and foremost requirement for writing a good essay. Have the best topic finalized, and you're already set on the way to success. If your focus is exam preparation, the best topics are obviously those that are loved by your teacher. Those topics can be ascertained with a review of past exam papers.
This guide contains some of the best topics anyway. If you are free to choose a topic yourself, and write the narrative essay as homework, select the topic you like the most. That's the best topic in that situation.
---
Read more: How to Write a Good Narrative Essay
---
List of Narrative Essay Topics – 75 Excellent Options
Topics of narrative essays are based on experiences. The topic typically contains 'I.' Choose any of the following 75 options. You can come up with even more topics with a slight modification of concepts. Our topics are:
Why I changed my school.
The joke I shouldn't have cracked.
When I spilled hot water on my foot.
The most difficult task I've ever done.
My first pet.
The indoor plant that I placed in the sun.
How I take care of animals.
The event that shaped my concept of happiness.
How I built a simple electric circuit.
What I wanted to become as a child.
How I chose my college major.
The pet parrot that I lost.
My first memories of getting ill.
The best shopkeeper I've ever seen.
My grandmother, whom I lost too early.
How I learned hospitality.
When I lost $10 in school.
When I got my money washed away in the trouser.
My relation with my brother.
A bad experience at a local restaurant.
What I value in friends.
How fatherhood changed me.
My journey of learning a second language.
When I lost my grandmother.
What I got food-poisoned.
There's no relation in the world like parents.
How migrating to a new land changed me.
A person who influenced me as a child.
The bit I do to protect the environment.
How I have evolved over the years.
An awkward experience of using ATM.
One profession I'd never like to join.
The funniest party I've ever attended.
I never like people like these.
A neighbor I can never forget.
The day I felt mature.
A friend that proved her friendship.
When I overate.
The most frightening experience of my life.
An experience that taught me what matters in life.
How I started valuing life more.
An experience that made me braver.
How I learned to appreciate what God gave me.
My success story of building a model lake.
The most memorable day of my life.
The day I knocked my knee.
The worst injury I had on the playground.
How I can tell, who can be a loyal friend?
The childhood experience that matured me as a person.
My most memorable gift.
The best birthday I've ever had.
The experience that moved me.
My childhood ideal.
My favorite celebrity.
Things I loved crafting the most as a child.
The subject that has always been my favorite at school.
A misunderstanding that blew my mind.
When someone else took credit for my efforts.
When I had to lie for others' well-being.
A night I can never forget.
When I ran out of the water while bathing.
A painting that I can never forget.
The best recipe that I spoiled.
The worst music concert I have ever attended.
How my teachers have shaped my personality.
The person I was afraid of in childhood.
How I learned to make a paper-ship.
The worst argument I've had with my mother.
What makes a friend trustworthy.
How I learned cultural values.
A joke that went too far.
When I felt rejected.
The most difficult decision I ever had to make.
Things I can't understand till date.
The best experience of hospitality I've ever had.
10 Narrative Essay Questions That You Must Prepare for
Many times, narrative essay titles are worded in the form of questions. You get a clear idea of what is supposed to be answered in the essay. 10 of the best questions are:
Where can I find a trustworthy friend in the world?
How to solve difficult questions of math?
Why shouldn't we eat cactus?
When will I find the love of my life?
What's the best way to catch a fish?
What's the best place for vacations in the world?
Why should we help the poor?
How to wear a turban the right way?
How to manage space in a backyard?
When do you get mature?
5 of the Top Narrative Essay Ideas
You may also take help from our suggested ideas for narrative essays. We've identified the top ideas that can be used for essay writing. They include:
My first birthday party.
A trip to a remote village.
A day in the life of a farmer.
A memorable quote.
The best donation you can make.
Get More Cool Ideas from Our Experts
We have a team of narrative essay writers who can devise a topic related to any field you want. Just let us know the field you want a topic about, and get prompt assistance. Rely on us.
Subscribe to our email newsletter with promotions and discounts.
×
Thank you!
Your email is successfully submited. Check your inbox for future updates.