50 Descriptive Essay Topics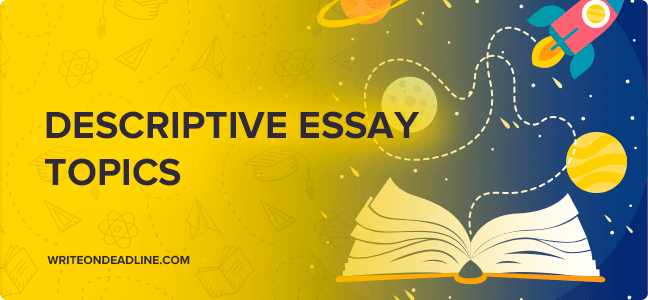 Without a good topic, it is impossible to write a good paper. Teachers do not always assign specific prompts to the students as they leave some room for imagination and creativity. It is especially relevant when it comes to descriptive writing, as such type of writing should be creative. Compared to argumentative and persuasive papers, a descriptive essay should contain many details and descriptions. It is not about proving one's point of view but rather explaining things, so the variety of topics to cover is almost unlimited.
At the same time, it doesn't mean you should choose just any topic in the world. This post will focus on choosing the right topic, question, or idea for descriptive essays. We will explain how to pick a subject as well as provide you with the list of top themes that you may discuss.
How to Select the Best Descriptive Essay Topic? Tips and Tricks
Overall, descriptive essays are personal, and they do not require in-depth research like other academic or scientific papers. They ask the author to describe something: from an object to event. Such writing attempts to convey how specific things look, taste, smell, etc. Thus, one can choose any topic that can be expressed through feelings or emotions, which is almost every topic in the world. That is why it may be a challenge to choose the subject for such type of writing.
To select a topic for a descriptive essay, one has to study contemporary topics on the web. Some of the ideas may pop up in TV shows and news. You may also look through newspapers and magazines to get inspired. Make a list of all good topics related to the subjects you covered in class. Exclude the topics that seem too complicated, or there is not enough information on them. Before starting to work on one of the ideas, consult your teacher and see whether he or she approves your choice.
---
Read more: How to Write a Good Descriptive Essay
---
Top Recommended List of Descriptive Essay Topics for College
There is no need to select witty, lengthy titles for your descriptive essays. Usually, the title of such a paper corresponds to the topic you've chosen. It should sound simple and clear. It is possible to write a descriptive essay in the first or third parties, so pick the title depending on this preference. Will you reflect on your own experience or not? Think about it before choosing the topic. Here is the list of great topics for you:
A stranger in the crowd
Moving from a suburb to a big city
One day at new work
A vase of roses
People that I see on the street every day
My dad's favorite fishing spot
The most embarrassing moment at school
Falling in love for the first time in your life
The best place to spend free time
Things that pupils do during their breaks
A life-changing experience
Moving from one house to another place of living
How the perfect date should look like
Favorite film or book character: their traits
Choosing a car to buy
Qualities of a good teacher
The most impressive childhood memory
Living with a stranger
Things that make a true leader
Life on campus
Your worst nightmare
Features of a good mobile app
Qualities you appreciate in your best pal.
Learning how to drive
The birth of a second child in a family
Perfect birthday party
Studying a foreign language
An event that changed your life
The most memorable music gig
Whom you want to be when you grow up
Sharing experience after attending another country
Getting in touch with exotic culture
A snowy day in California
Experiencing a natural disaster
How you imagine a life after death
Discussing favorite food and dishes
Meeting a celebrity at the street.
Describing a paranormal experience
How it feels to win a contest
A major academic achievement
Getting enrolled in the college of your dream
Starting a new professional career
Getting ready for exams
Things to do while sitting in traffic
A favorite element of clothing
The first flight on a plane
The best Halloween costumes
Another Independence Day in the United States
Performing in front of the audience
How a perfect Prom Night should look like
Most Interesting Descriptive Essay Questions
While in a topic, you may cover whatever you know related to your discussion subject if you have a specific question to answer, reply to it closer to the end of your essay. We have created a list of the frequently asked questions that you might have to answer in your descriptive paper:
How did your first kiss feel?
What are the traits you are looking for in your partner?
Could you describe your neighborhood?
Would you prefer an art exhibition or cinema?
How does a park look in the middle of the day?
What are the traits of the best parents?
How would your dream house look like?
What makes a good political figure or president?
What is your favorite book cover, and why?
What was the saddest moment of your life?
5 Descriptive Essay Ideas That You Would Love
Finally, we would like to share some of the best ideas for descriptive writing. They are a bit different from topics as they simply give a hint, and you are the one to decide which subject exactly to cover in your paper.
Think about various kinds of transports: automobile, bicycle, motorcycle, skateboard, surfboard, etc. Which one of them would you prefer to have? Describe the characteristic of dream transport.
Have you ever attended a wedding or a funeral? Think about what makes these two rituals different and what makes them alike. Use as many descriptive elements as possible to show that.
Recall a sporting event that you attended. Discuss who won and list the features that helped that team or individual to win.
The view of an ocean or beach: can you remember the last time you've visited one? Describe that episode.
Tell the difference between being a boss and being a CEO. Which traits make these people stand out from the rest of the employees? Discuss which characteristics a good boss should possess.
We hope that these lists of topics, ideas, and questions will help on your way to a good grade. We know how to earn a perfect grade in any case. All you have to do is contact our experts and order an essay from scratch. Our pro essay writers will do their best to help you catch up with the deadlines and earn the best marks – fill out the order form now and get professional descriptive essay help right now!
Subscribe to our email newsletter with promotions and discounts.
×
Thank you!
Your email is successfully submited. Check your inbox for future updates.