50 Reflective Essay Topics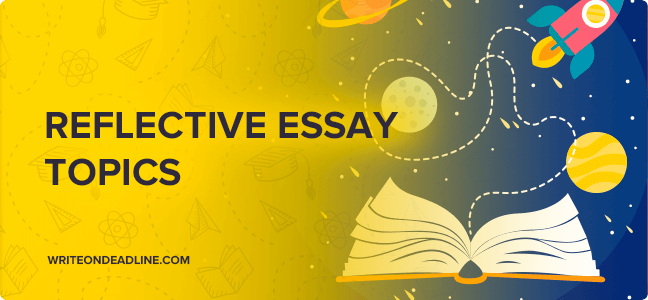 Reflective writing is a creative activity. A student should not waste hours on research and analysis of the sources. There is no need to insert citations and reference them (unless an author wants to quote someone, and the quote is relevant). When assigning reflective assignments, teachers are interested in the student's personal experience rather than an expert view on a problem. They wish to learn more about their students as well as help them develop creative writing skills.
Sharing an experience is way easier than writing about something you personally did not face. However, there are times when students still have to deal with a writer's block when working on reflective papers. One of the primary obstacles is choosing the subject to discuss. That is why we decided to share interesting reflective paper topics, questions, and ideas with young writers. You may come up with an original theme based on what we offer.
How to Select the Best Reflective Essay Topic? A Few Tips
In fact, selecting a theme to discuss in a reflective essay is very easy. All you have to do is think about some moments from your life that you wish to share with others. There is no need to research any sources – it's all in your head. Recall your memories and think about what might be interesting to your reader. We can help you by providing various examples of what people usually cover in reflective writing.
---
Read more: How to Write a Good Reflective Essay
---
Check out the List of Reflective Essay Topics
A topic stands for a matter dealt with in a text or conversation. It can also be defined as a subject. If you choose to work on a specific topic, narrow it down so that the recommended word count is enough for you. Focus on one or two aspects of the topic instead of trying to cover all of them. For reflective writing, we recommend one of these subjects:
A dramatic reunion of my family
The consequences of lies in a marriage
A time in my life when I felt most embarrassed
The toughest challenge in a relationship
Cases when your parents punished you for nothing
How I helped someone in need
Reasons why we can wish to have something others have
Choosing between brother and sister
How I confronted the business owner and did not get fired
The worst vacation I have ever had
Last time when I was laughing out loud
Several things that made me cry in my life
Making castles of sand on the beach in summer
Walking past long dunes
One day when I went hiking with my friends
Swimming in the ocean in Portugal
My first trip to the sea
Flying on a plane for the first time in your life
Playing in the mud as a naughty child
Taking part in a football game for the first time
Visiting the Sahara Desert as a tourist
Kissing first love in the rain
Hunting with your dad and uncle
The most recent cooking experience
The bookstore I prefer for many reasons
My first part-time job and my responsibilities
Serving as an intern in a hospital
The place where my dad proposed to my mom
The place in my town that holds precious memories
A visit to the Olympic Games
The most memorable music gig I've ever attended
Watching "Harry Potter" at the cinema
Reading "The Great Gatsby" from cover to cover
My last visit to the circus
The most dangerous locations I have ever visited
Playing soccer with pals at the community playground
Working in the office vs. working in a garage
My least favorite high school subject
Challenges that I faced being a college freshman
Things that I have learned during my time in college
The time I have faced high school bullying myself
High school prom and how I became the queen
The most successful part of academic life
How I entered college thanks to the stunning essay
Starting a brand-new career in another town
The day when I stood up for the rights of racial minorities
The way my family and I celebrate Christmas in the US
Doing ordinary things like laundry or cleaning up
Receiving an unexpected gift from a stranger on St. Valentine's
Getting lost in the dark woods
10 Exciting Reflective Essay Questions
You may have to answer your teacher's specific questions instead of covering a particular topic in some cases. The difference is you will have to focus on finding a solution to a single problem rather than trying to discuss various aspects of the issue. In conclusion, you will have to provide your reader with one clear response. Here are some questions you may choose if you have a right to write about whatever you want:
How do I see the difference between being engaged and getting married?
What does it feel like shifting to a new place of living?
Why did I get victimized for my religion one day?
How did I manage to survive without water and electricity for almost a week?
What was the best birthday party I've ever attended?
Which of your visits was a better experience: a zoo or a museum?
How did I learn to perform in front of the public in college?
Have you ever failed terribly in your tests or examinations?
What is the impact of social media on my behavior as a student?
How did mobile device help me to survive my college?
5 Great Reflective Essay Ideas
Are you looking for even more inspiration? We have prepared some ideas to help you get inspired. Here is what you can also discuss in your reflective writing:
Think about the process of dropping out. Are students making the right decision? Explain the cases when it might be for the better.
List various possible childhood vacation spots. Discuss whether all of them are equally safe and worth visiting.
Think about the different things that you've done in your life. Look back and decide whether you regret about some of them or not.
Describe what you felt during your parents' divorce or your own (for college or university students). Share your opinion on times when people should break up instead of trying to find a compromise.
Write about something that has really scared you. You may compare things that made you scared when you were a little kid to things that scare you off now.
These topics, questions, and ideas will give you a clue. Anyway, do not forget to include vivid examples in your papers to prove that you experienced those things. If you need help with your reflective essay, you may count on the team of experts from our academic essay writing service. We are waiting for your queries and orders round-the-clock!
Subscribe to our email newsletter with promotions and discounts.
×
Thank you!
Your email is successfully submited. Check your inbox for future updates.